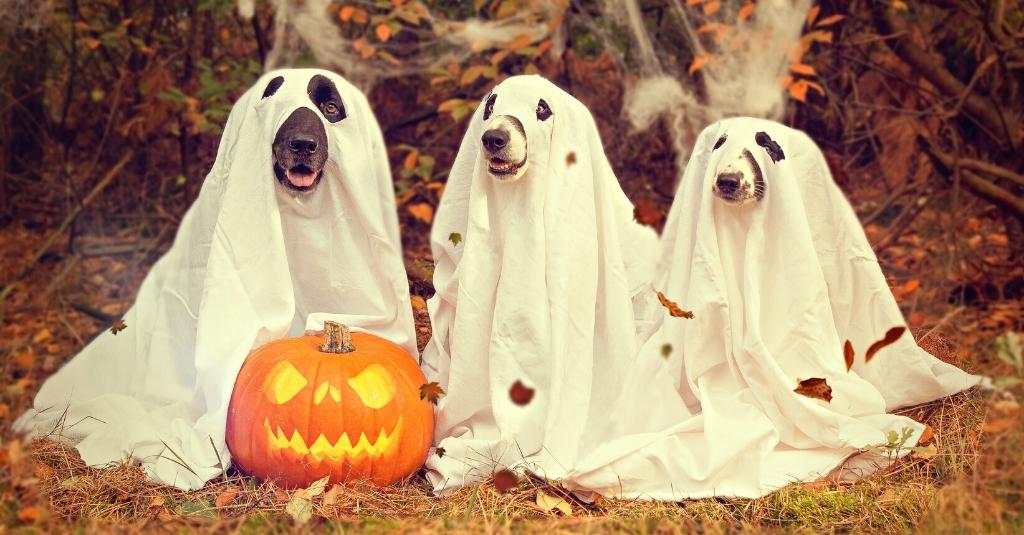 Halloween is within sight, and our website is infested with crawlies ghosts AND scary monsters! 👻🎃 We need your help to expel these pesky invaders. For your hard work hunting these spooky creatures down, you will get a 10% discount code! For every monster found you get one entry into a draw to win three supplements of your choice and a $50 gift certificate from your favorite pet supply store.
When is the Halloween Hunt?
Our special Halloween Hunt starts at 10:00 am PST on Monday, October 24, 2022, and ends at 10:00 am on Thursday, October 27, 2022. Each day, different creatures will haunt our website, beware they are very sneaky! This is what the ghosts and ghouls look like.
How do I Participate?
We will put out clues in this blog and our social media (Instagram and Facebook) at 10:00 am PST each day, from Monday, October 24 to Wednesday, October 26 help you find the invaders hidden in our product webpages. You will have 24 hours once the clues have been released to find the spooky monsters. Once you find the creepy creature, take a screenshot of their hidden spot and send them to us via [email protected] or by sending us a direct message on Social Media.
Everyone that participates will get a 10% discount code, even if you only find one ghoul on one of the three days. But only one winner will take the grand prize home: three complimentary supplements of your choice and a $50 gift certificate for a pet supply store. Guess what? There is a way you can increase your odds of winning the prize. For each monster found, you get one more entry to the draw, so your chances of winning are higher! Please note that the monsters appearing on this page don't count.
Any participants that post their photos publicly will be disqualified as it takes the fun away!
How do I Receive My NHV Coupon Code or Prize?
All entries close at 10:00 am PST on Thursday, October 27. We will contact the lucky winner via email or social media DM to claim their prize on Friday, October 28.
All other participants will be sent their NHV coupon code via email on Friday, October 28. If you message us directly, we will ask you to provide us with your email address. You'll be automatically subscribed to our newsletter so you'll always be the first to know about our giveaways and promotions. You will need to confirm your subscription, so keep an eye on your emails.
Please note: Only one discount code per customer. These discounts cannot be combined with any other promotions or discounts and can only be used once. Customers must enter the coupon code at checkout to apply the discount. The coupon code will only be valid until November 21st, 2022.
If you have any questions, feel free to ask our pet experts, but the only clues we can give you each day are displayed below! 👇
Day 1 – Flu Season Clues – Monday, October 24
Clue 1
🤧 I recently caught the flu and dad said I need something natural along with my vet-prescribed medications to help me combat this viral infection. He got me this supplement that contains some beneficial herbs like Turmeric and Got-a-Koala. Or was it? Anyway, can you guess what it is?
Clue 2
🦠 I am too young to be suffering like this! At only 4 years old I've been coughing a lot lately and the vet suspected I have herpesvirus. My furmily talked to the pet experts at NHV and they recommended this bundle of wellness to help combat viral infections and promote healthy breathing. My pawrents have hope that these two supplements will help me win over the stubborn virus!
Clue 3
🍄 Lately, Mom has been so worried about me after the vet said I have an autoimmune disease that can be life-threatening. She immediately bought this mushroom-blend supplement for pups like me, to help support my immune system. I like to eat my food more now and I don't feel tired all the time anymore.
Day 2 – Creepy Crawlies Clues – Tuesday, October 25
Clue 1
🥥 As a Pomeranian, I am proud of my beautiful fur. But recently, the hot weather made me smelly and there is dander on my precious locks. Mom used this gentle spray on me to help reduce my dandruff. Now I also smell like coconut and lavender!
Clue 2
🐛 I am an adopted cat that used to live on the street and eat scraps to live by each day. I am now happy but years of ingesting infected soil and playing in contaminated areas affected my tummy health. Mom called the vet and he found creepy crawlies inside of me. Now I started taking a kit with three supplements that will help my body detox, aid my liver, and help give me extra nutrients that I have been missing.
Clue 3
🌿 I am a young golden retriever, and I love my beautiful backyard! I can spend my whole day playing in the grass, but the mites made my skin itchy. Dad got me a bundle with a liquid yummy supplement to help support my immune system and a spray that helps keep the pesky parasites away. I can now play in the backyard without worries! Guess what this amazing kit is?
Day 3 – Shake Your Skeletons Clues – Wednesday, October 26
Clue 1
🐇 My mama says I mean the world to her, and she gives me the best life. But years of happily hopping around the house led to tired legs. I heard my mom talking on the phone with a friend, and she is concerned that I might have arthritis. But she found a supplement specific for bunnies that can help me stroll around more comfortably again.
Clue 2
❄️ I love playing in the snow! But my furmily always worries about my paws being exposed to the cold air. They say it dries and cracks my beautiful toe beans. This year we want to prevent that, so help me find a kit that can help protect and soothe my pawzies this winter.
Clue 3
💪 Getting old is no joke! Over the years it's become harder and harder to jump to my favorite window spot to supurrvise the neighborhood. It was breaking my mom's heart to see me struggling with mobility. So she did her research and came across this supplement that can aid pets living with chronic joint and muscle discomfort. Can you guess what it is?
---
Halloween Hunt is now closed!
Thank you so much to everypawdy that helped protect our website from ghosts and ghouls! We hope you had fun and have a happy Halloween!
---
Published: October 24, 2022
You May Also Like