Neem, also referred to as Azadirachta indica is one of the plants that have been used for thousands of years in India and the African continent and has shown a multitude of medicinal benefits. The seeds and leaves of the Neem tree can be used medicinally. They are rich in quercetin, which has anti-inflammatory, antibacterial, and anti-fungal effects.
This plant has some of the best natural healing properties. It kills germs, impedes fleas, ticks, mites, and insects. Naturally high in fatty acids which makes it a natural moisturizer that protects the skin and helps with healing.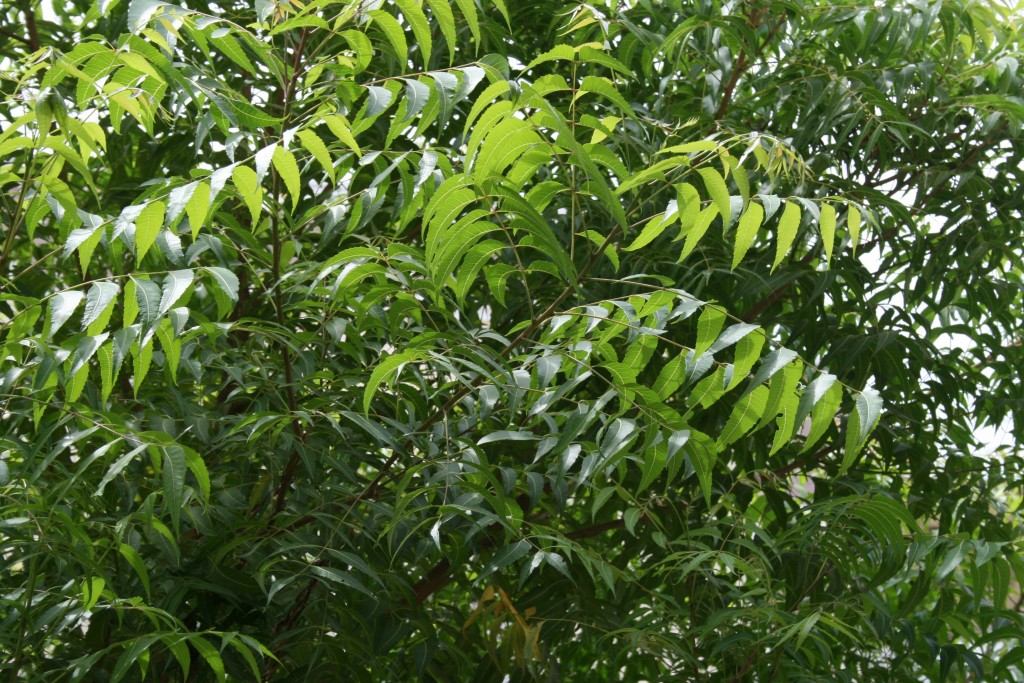 Traditional Benefits and Use of Neem
Neem is a natural repellent and its use in shampoo or spray is effective for repelling fleas, mosquitoes, and some ticks. Dehydrated Neem leaves are sometimes used orally, to prevent and treat intestinal parasites and improve the immune system. They also reduce bad breath and prevent periodontal disease.
Neem has been used in India for over two millennia for its medicinal properties. It helps to prevent hair loss, dry skin, dandruff, makes the coat shine. It has anti-fungal and anti-inflammatory properties that are beneficial when addressing various skin problems, such as allergies, dermatitis, and skin cancer. Also, the Azadiractin is a tetranortriterpenoid constituent of neem that interrupts metamorphosis in insects which helps deter insects and skin parasite form attaching on to a host.
As there is a risk of finding in some products other parts of the plant, with varied substances and unknown effects, potentially toxic, make sure you look for Neem from a reliable source, such as NHV, that uses Neem specifically for pets.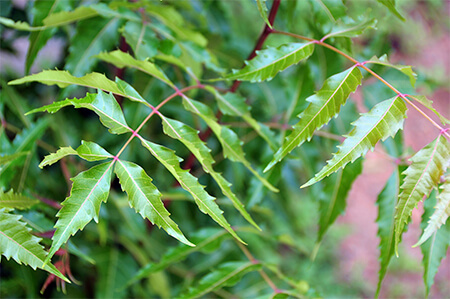 NHV has 5 products containing Neem leaf extract that have been formulated by a holistic veterinarian and a master herbalist to help transfer the many benefits of this excellent herb to pets, safely. These formulations can be beneficial for various health issues:
Coco Furcare is a multi-purpose topical spray that helps keep your pet smelling clean and fresh, encourages coat shine and health, helps to clear symptoms of skin allergies, and shields against bug bites.
BK-Detox is especially useful for supporting pets that are fighting cancer. Since CLL or Chronic lymphocytic leukemia spreads cancer to the blood, BK-Detox helps detoxify the vital organs and the blood.
First Aid Spray helps your pet heal faster from minor cuts and scrapes. It helps reduce pain and irritation while helping heal wounds and helping prevent infection.
Mouth Drops acts as an herbal oral disinfectant. It can help to eliminate bad breath, gingivitis, and aid with any bacterial problems in the mouth. It can also be used to help against rotting teeth and plaque
Target Spray helps your pet rid itself of fleas, ticks, lice, and mosquitoes. Its soothing herbal formulation repels insects and calms skin irritated by the inevitable scratching bugs cause. This antiseptic spray can help prevent hair loss and secondary infections.
Neem has many properties and medicinal effects that can be beneficial not only for humans but also for our pets. There are many products and recipes available with Neem for pets, however, Neem can be dangerous in excess. It is important to make sure that, if you are giving Neem to your pet, you have the correct dosage for them. All of NHV's products are formulated specifically to be safe for pets based on their weight. If you or your vet have any questions about Neem and if it is right for your pet, feel free to contact us.
---
---
You May Also Like