Vet Talks: Tips On How To Get Your Dog To Eat Slower

Vet Talks

4

min read
What dog doesn't love food?! As our pet's guardians though, it important that we don't let eating habits turn into health problems. If your dog eats too quickly, there are some strategies that you can adopt to help them eat slower.
If you have an eager eater, don't worry! This is actually a good sign since one of the biggest indicators of a health concern is a lack of appetite. But eating too fast can become problematic. This is because when a pet swallows too quickly, they can ingest a lot of air, which can cause a distended stomach. A distended stomach in dogs has different degrees of severity since the stomach becomes excessively inflamed and the presence of air can be quite painful for your pup.  Paying attention to how quickly your dog eats is quite important, especially in large breeds, because they tend to suffer from gastric torsion, which occurs when the stomach is twisted, causing a restriction of blood vessels and organs.  This is one of the most severe veterinary emergencies, as it can be fatal in a matter of days, or even hours.
Although we're still unsure of the exact causes of gastric torsion, the excessive presence of air in the digestive tract (which happened when they eat too quickly) can be one of the causes. Below are some tips on how to get your dog to eat slower.
Tip # 1: Feed Smaller Portions Throughout The Day
Think of it as snacking! Instead of feeding your dog a large portion/meal once a day, it's better to give smaller portions of food several times a day. This will make your dog feel full all day, instead of munching down on their big dinner. It also will greatly benefit digestion since they won't have an empty stomach for hours a day. The main reason that dogs attack the bowl of food is that they spend a lot of time without eating anything, so on the moment that a delicious plate is set in front of them, they're going to go to town!  So we recommend feeding your pet two to three times a day.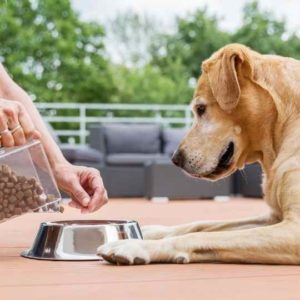 Tip # 2: Add A Toy To Your Pet's Bowl
Not, it's not just for fun – there are many types of toys that have been designed to correct quick eating in dogs. For instance, there are toys specifically made to place in the bowl with kibbles, making your furbaby work around them, thus slowing them down.
Tip # 3: Regulate Water Consumption
Hydration is good, but when our pets drink water excessively after eating, it can cause some digestion issues. Drinking a lot of water, especially after eating, can cause the pet to have a very full stomach, causing different problems, including regurgitation. To prevent this from happening, you can offer just a little bit of water after each meal and remove the container for two hours. After that, you can return the water to your little one.
Tip # 4: Avoid Competitive Eating
We've all given up the last fry on the plate to a loved one, but our furry friends don't have that kind of self-control. If you have several dogs, they may compete for food, and develop some bad habits. To avoid this competition, we suggest putting their bowls far away from each other. This way, they will eat slower without having to worry that the other dog will steal his/her food.
Tip # 5: Buy High Bowls
Along the lines of the toys, high bowls for large breeds of dogs can be incredibly helpful. These bowls will not only help your pet eat slower, but may also prevent him/her from accumulating a lot of gas in his/her stomach. For large dogs, it is suggested not to leave the dish directly on the floor. It is best to place it on a higher stable level or on a small table so that the food is closer to its reach, due to the size of the animal.
Equally as important to how your pets eat, is what your pets eat. Along with these tips, we recommend a nutritional diet that is healthy and balanced. A supplement that can help with your pet's overall health is Multi-Essentials which contain many antioxidants, vitamins, and minerals to help nutrient absorption, and supports a healthy metabolism.
If you have any questions or concerns about your pet's eating habits, or if your pet is a little trickier than most and these tips don't work, please feel free to contact us for additional support. We are here to help!
---
Dr. Amanda Nascimento, DVM, MVSc., PhD completed her undergraduate degree in veterinary medicine in 2010 and graduate studies in veterinary pathology (MVSc. 2012 and PhD 2016) at the School of Veterinary Medicine, University of São Paulo. She completed her post-doctoral training at the Western College of Veterinary Medicine – University of Saskatchewan in 2018. Dr. Nascimento will be hosting her own blog series and sharing her knowledge with our extended NHV family.
Follow Dr. Amanda's vet talks blog series
Get Your Personalized Veterinary Nutrition Plan Here 👇
https://www.nhvnaturalpetproducts.com/personalized-veterinary-nutrition-plan-for-pets/
---
Published: August 11, 2020
You May Also Like