As pet parents, we know how much trouble our furkids can get into and sometimes we don't always know what to do when something more serious happens. Don't you worry! Our pet experts are here to help. Having basic first aid could be life-saving in an emergency or could help a fluffy loved one to reach medical attention.
Every pet parent should have a first aid kit for pets because it can come in handy when you least expect it. Whether you can make one yourself or find a prepackaged one, you can find them in a variety of sizes for different situations. First aid kits for pets are inexpensive, easy to find, and generally will keep you equipped to help with most injuries until you can reach a vet.
First Aid Kit For Home
Accidents and injuries can happen anytime, anywhere but it is always a good idea to have a good first aid kit at home.  These are the most important items to look for in a first aid kit for pets:
Muzzle (be careful when you muzzle an injured pet because they might get aggressive)
Gauze
Sterile pads
Stretch bandage
Bandaging tape
Vet wrap
Safety scissors
Hydrogen peroxide
Cotton balls or swabs
Chlorhexidine wash (0.5%)
Splinting materials
Tweezers
Disposable gloves
Antiseptic Spray (our natural suggestion is NHV First Aid Spray)
Diarrhea/ Constipation medication (our natural suggestion is NHV Plantaeris for diarrhea and NHV Maris for constipation)
Antibiotic ointment (our natural suggestion is NHV All Clear Ointment)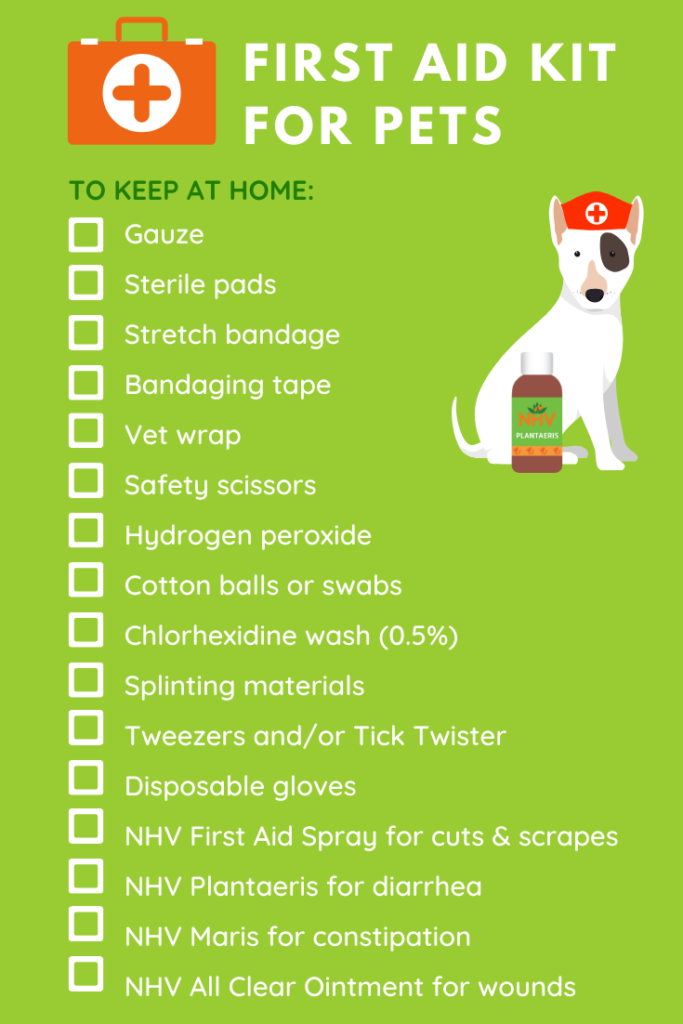 First Aid Kit To Go
If you're out and about with your furry baby, you do not need to carry around a backpack worth of supplies to be prepared. A good first aid kit for pets can be the size of a fanny pack so it can be taken with you or even be easily stashed in the car. Here's what you should have on you:
Safety scissors for cutting bandages or trimming fur (sometimes the fur around an affected area needs to be trimmed to be able to properly treat the issue)
Some type of antiseptic like NHV First Aid Spray (keeping clean to avoid infection is important)
A set of gauze
Bandages and adhesive tape (for open wounds, cuts, and scratches)
Disposable gloves
Tweezers
Vet wrap
Small flashlight
Water (to wash any wounds)
Tick Tip: Depending on where you live you should have a tick twister included in your kit. This is a device that works miracles when removing ticks, it removes the full tick without driving it further into the skin. Using tweezers is no longer advised to remove ticks as it is known to just remove the tick's body and not the head. It's also good to take a picture of the tick before removing it so you can show it to your vet!
Vet Wrap
The single most useful item you can own is a vet wrap — it's a self-adhering tape shaped like a tensor bandage. It is basically the shape of a tensor bandage or smaller, depending on your pet's size. When a pet has too much fun running around at the park or is out in the snow too long, they may wear down their paw pads until they are sore. The vet wrap comes in very handy at this point, because it can be used to cover the paw to avoid getting bacteria in the injured area and to prevent the pet from bothering at it. If you know your pet will not put up with having a bandage on for even a few seconds then a vet wrap is a great solution because they can come bitterly flavored, making them no fun to chew off.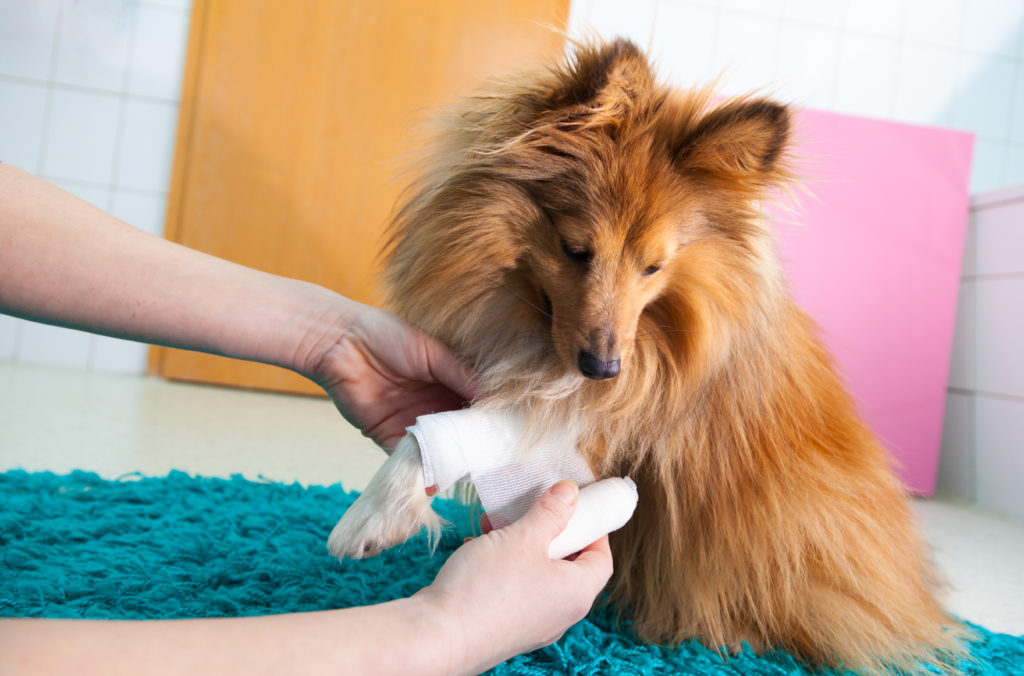 Having a first aid kit for pets is essential as you will be able to provide basic care at the scene of the emergency however, it is not a substitute for proper veterinary care. If your cat or dog is experiencing an emergency please take them to your regular veterinarian or emergency veterinary hospital as soon as possible. It's also important to remember that any animal that is in pain may bite or scratch—be sure to take the appropriate actions to ensure your own safety.
To be prepared for everyday emergencies, NHV's Cut and Wound Care Kit is a great addition to any pet pawrents medicine cabinet. Containing First Aid Spray and All Clear Ointment, it is perfect for many different injuries.
For more information on what you should do in an emergency, visit our Pet First Aid blog
https://nhvpethealth.com/pet-first-aid/
---
Published: February 21, 2020
You May Also Like