Scout is heading into 2019 feeling better than ever, leaving her past behind her. Scout is another pup living with her amazing mum Hollie (who is also Ginger's mum) and her pack of fur babies –  thebeaglefarm  – who has been through quite a lot. This senior lady came to her new family extremely overweight, which has caused some issues with her knees and eventually lead to some limping. This sweet soul was suffering from kidney and liver issues, and could not get the help she needed until her mum brought her into her home and started an NHV regimen for her- just like her sister Ginger. Slowly but surely, Scout was on the path to her new healthy weight.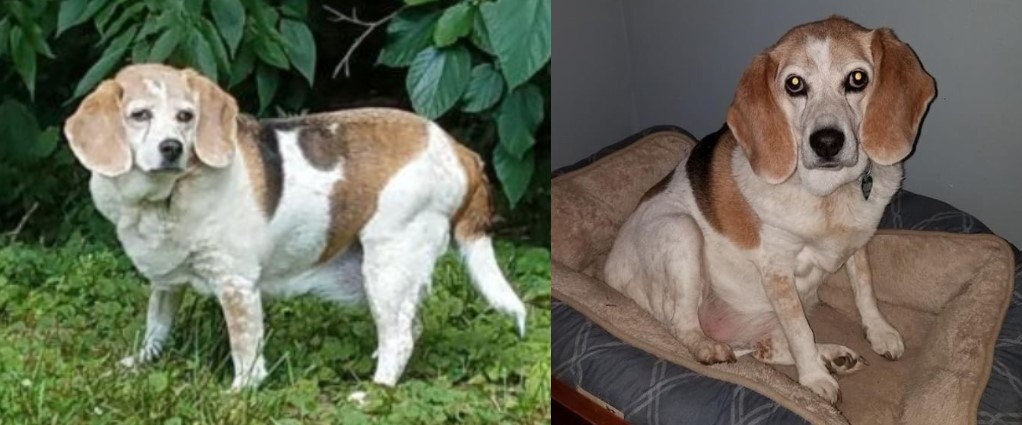 JULY 2018
Scout has been with me for about 2 months. Her previous owners said she was aggressive with their kids. She ate human food at their home and is obese. Scout also has kidney and liver levels that are slightly high. Vet recommended Hill's Science Diet for her kidney issues. He also said these issues were fairly normal for her age. She has had knee surgery (back leg) and now she is limping on her front leg. She has had the limp since she came to me. Vet recommended I do not walk her due to her limp. Scout is not active, but does get super excited to eat! She has been tested for cushings and diabetes and was negative for both. I consulted by IG with Jade and have just ordered Yucca, Tripsy, Milk Thistle and Old Timer.
SCOUT STARTS SUPPLEMENTS AND A VET-FORMULATED DIET BY DR. AMANDA
Scout started taking Milk Thistle and Tripsy to help with her kidney and liver levels that were a little high, and once that was under control we were able to regulate her appetite and change her diet with a well-balanced Nutrition Plan made by our in-office Veterinarian Dr. Amanda.
In addition, she's also taking Old Timer to help support her knees after her surgery, and we are thrilled to see that it has been helping this little lady bounce back! This supplement is especially beneficial when your pets are facing arthritic pains because it is an herbal formulation with anti-inflammatory and restorative actions that works to help alleviate arthritis, muscle and joint discomfort, and improve energy levels.
NOVEMBER 2018
"Scout went to the vet earlier this week. Look at her weight! She was 34 lbs when she came to me. Vet said she is at her ideal weight now! Thanks to diet, exercise and your supplements, she us a happy, active beagle now! She will be 15 next month and she is doing great! She even chased another one of my dogs around the yard this week. When she came to me, I had to carry her outside. Now she runs and jumps and is so much healthier! 
WEIGHT…IS THAT SCOUT NOW?
This lovely lady has made such amazing progress, she looks great and mum tells us she's also feeling great! Here's the wonderful update:
"I am so excited about Scout!  When she first came to me, I had to pick her up and take her outside.  That's how lazy she was!  Now, she runs outside!!!  She is the sweetest girl and I know she feels so much better!  I don't see her limping near as much either!  She is doing great!"  
In Scout's words:
So, this happened……
1. I jump (yes, I actually jumped) in the car ready for a grand adventure!
2. I ended up at the dogtor. ☹ But, the good news is my first mommy was there and I got lots of love and chin scratches! I just love seeing her!
3. Then, they put me on the scale and my mom has the audacity to post how much I weigh!😱😱 How embarrassing mom!!! But, she said it was a good thing because I have lost 9 pounds!!!!!! I am able to run and play and jump now and I feel great!!! But, then the dogtor put his fingers someplace fingers should never go!😡 I got very mad and howled and howled and howled. I think they all got the point!😤👊
4. I ended up at home giving mom the stink eye to tell her I was not happy at all about my grand adventure! (Except for seeing my first mommy! That was fun!💜)
Hope you guys are having a better day than me! – Scout aka Magoo aka Mags aka Scouty Scoo Scoo 
HERE'S WHAT'S BEEN HELPING SCOUT:
---
NHV Tripsy contains a balanced formula of herbs that help maintain healthy kidney function, soothe the lining of the kidneys, remove waste build up, inhibit infection and reduce inflammation, swelling and pain. It also has antioxidant properties that help protect the cells from oxidative damage.  NHV Tripsy is beneficial for chronic kidney disorders, urinary infection, uroliths, bladder stones and renal failure.
NHV Milk Thistle is beneficial to help improve kidney function. It helps to support a pet's kidneys that may be damaged due to the use of drugs and radiation therapy, and for kidney damage caused by diabetes or infections. It helps remove toxic chemicals that can accumulate in your pets system.
NHV Old Timer offers natural support for arthritis, muscle and joint pains. It has anti-inflammatory properties that help alleviate the symptoms associated with hip dysplasia and joint discomforts. It contains herbs that help with better strength, endurance, and improved agility.
NHV Yucca due to its anti-inflammatory benefits, Yucca is a powerful aid for pets living with chronic arthritis pain. In regularly taking the Yucca supplement, pets can experience soothing relief for inflamed muscles and joints, while also benefiting from the natural pet care supplement's anti-tumor, nutritive, and digestive support.
Custom diet plan by Dr. Amanda has been made to suit Scout keeping in mind her weight concern as well as the condition of her vital organs. The recipes are simple but they do need some preparation every week. And Scout's mom switches things. When she is able to cook and prepare she does that otherwise it is a serving of suitable kibble with some goat kefir.
It is in your pet's best interest to maintain a healthy weight. If you are having difficulty guiding your pet through their weight loss journey, NHV can help. Our pet experts can provide a nutritional assessment and even formulate a custom diet recipe, which focuses on healthy weight loss.
Look at her do the Tippy Tap dance for her food with NHV supplements in it
New Year New Scout? This beagle's regimen for Weight Loss
Look at her be an active puppy. Now that she is healthier, she can get around to some mischief too!
New Year New Scout? This beagle's regimen for Weight Loss
https://nhvpethealth.com/vet-talks-obesity-in-pets/
https://nhvpethealth.com/keeping-ginger-the-beagles-heart-murmur-at-bay/
---
Published: December 10, 2018
You May Also Like