Penny the Cat – Improving Quality of Life for Hyperthyroidism in Cats
Inspiring Pet Tails
3

min read

Hyperthyroidism in cats is caused by excess production of thyroid hormones (T3 and T4.) Cats that have hyperthyroidism are more common in older pets (generally over ten years of age). In this happy tale, Melissa shares the story of Penny, her cat that started taking NHV Resthyro to improve his quality of life.
Penny is 20 years old, and he was recently diagnosed with hyperthyroidism. Melissa tried the medicine prescribed by the veterinarian, along with a diet high in protein. However, he didn't have any improvements in his condition, and Melissa went online one night to start researching for natural pet products and found our website. She read the stories of other fur babies that have used NHV Resthyro in addition to the treatment option for hyperthyroidism in cats recommended by her veterinarian.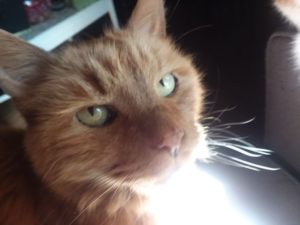 Melissa immediately ordered a bottle and couldn't wait to start their journey. Penny began using this natural remedy for cat hyperthyroidism in March of last year, and it took a month or two to see the results – visible improvement in his quality of life. He is now returning to his lively and playful self and enjoying a good appetite.
Penny had gained 1 pound when he visited the veterinarian for his six-month checkup in October 2018. He is finally sleeping throughout the night on most nights again!
I cannot begin to praise your team of veterinarians along with all others who have worked so hard to give pet lovers of all kinds reassurance that there is help available beyond the go-to protocols used by most vets. Don't get me wrong; I love our vet, as they have been there for my babies and me many times through good times and sad ones. But sometimes when something doesn't work, it's a blessing to know NHV is here for us!

-Melissa McAlister
It is heartwarming to see the amazing progress senior cat Penny has made by using our supplements as an option with conventional treatment for hyperthyroidism in cats. Our team is delighted to be a part of his integrative journey.
_______________________________________________________
Resthyro is a natural, vet-formulated and vet approved remedy to support the health of cats holistically. It's an excellent option in addition to the treatment for cat hyperthyroidism prescribed by veterinarians. This 100% natural supplement is designed to support the thyroid gland, as well as to help manage secondary symptoms of thyroid disease in cats.
Supports balancing of thyroid function

Assists with digestion

Helps to reduce excessive appetite and restore balance

Helps relieve tension and irritability

Reduces thirst and urination

Supports other organs affected by hyperthyroidism, like the heart
NHV also offers natural remedies for hyperthyroidism in cats such as hyperthyroidism gold support kit for cats. Are you wondering how NHV supplements can help your pets? Call or chat with us, and one of our Pet Experts will be happy to help you.
---
Published: January 5, 2019
You May Also Like