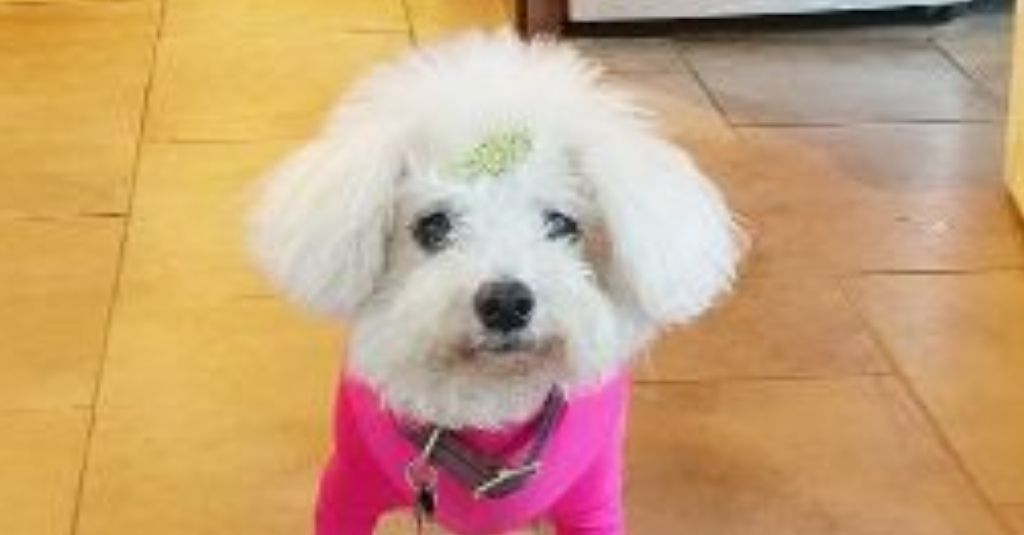 It all started in April. When one of our NHV Pet Parents told us about a special rescue dog whose kidneys were failing. Cara had known NHV from before, and she wanted to know if Edna, this precious giant dandelion-like looking dog, could find any herbal help from NHV. We sprung into action right away.
We found out Edna was very special indeed. Edna's family gave up on her because they didn't have time for her. At 12 years of age, she found herself on the cement floor of a shelter. That's when a kind-hearted man named Steve found her. He brought her home to his family of rescue animals – dogs of all sizes and breeds, cats, chickens, rabbits, and a pig too! Edna fit right in. She soon became daddy's little girl.
Three years later, in April 2018, Edna had to be rushed to emergency treatment. The vets diagnosed Edna the dog with kidney disease. What follows next is a story best told by her dad Steve's beautiful and honest Instagram posts.
On April 12, 2018, Steve shared:
Edna is still pretty sick, but she's off oxygen, she's off the IV fluids, and her temperature is normal, so I'm bringing her home tonight. I'm so grateful for everyone's prayers and well wishes from across the world. I'll keep you updated. I'm hoping to see her looking like this again soon.
—
On April 24, 2018, he told everyone that little Edna might not make it, but he would not give up on her:
Although Edna is still undergoing some supportive treatment for kidney disease, she is acting like her old self again, bouncing up and down the stairs and demanding her Saturday morning burrito run. She became very ill suddenly a couple of weeks ago with an acute pancreatic attack, which later turned into congestive heart failure. She was in ICU for a few days, and on the last night, the doctor told me she likely wouldn't make it through.
She had to be in an oxygen chamber so I couldn't hold her, but when I placed my hand on her back, she knew who I was and slowly turned around to meet my eyes. I didn't know if I would see her again, but that seemed to be her turning point.
They said most 15-year-old dogs couldn't survive those conditions, but Edna and her Dolly Parton hair pulled through. The next morning her breathing returned to normal, her temperature returned to normal, and she was off the IV fluids. I took her home later that day.
—
On May 15, 2018, he shared that the struggle was continuing but Edna wasn't improving. It seemed that this brave dog with kidney disease didn't have much time. That's when Cara brought Steve and Team NHV in contact:
Edna's blood results weren't quite what we were hoping for; she was diagnosed with moderate kidney disease. My heart sank when I got the message, but we are both going to fight this. I've heard lots of encouraging stories of dogs living great lives for many years with her condition. She's 15 now, so I'm hoping for another 15 (that seems reasonable to me). In the meantime, special diets, subcutaneous fluids, and lots of prayers are in her future. You got this Edna. #areyoukidneyingme
—
In July 2018, came a happier update. She was a dogfighting kidney disease bravely and in good spirits:
Here is a quick update on Edna before I leave on vacation. She was diagnosed with moderate level kidney disease a couple of months ago, so lots of people have asked how she's doing. She is doing amazingly well! She's on a special diet, I give her subcutaneous fluids every day and some naturopathic supplements (not homeopathic, don't yell at me ) and I can tell she feels much better. She has lots of energy (contextually speaking), she runs like a speeding bullet through the house (contextually speaking) and she has an amazing appetite. And of course, she still loves movie nights and burrito Saturdays.
—
In January 2019, Steve shared a lovely moment that made everyone tearful. 9 months later, Edna the dog's kidney disease was stable. NHV is so happy to be a part of this:
As much as she loves me, I'm sure I love her more.
Last year Edna got very sick and was rushed to the emergency room. She was diagnosed with kidney disease, and at one point they told me they didn't think she would make it through the night. When they let me go in the back and stroke her head through the oxygen tent, she looked at me, and I knew she was going to fight with everything she had. Nine months later her blood tests are stable, and they register on the high side of normal, normal being the operative word. I did a lot of praying, and we made changes to her diet, she gets fluids every night, and I give her naturopathy supplement's from @nhvnaturalpet (I highly recommend their products. I've started using them for Edsel's and Doris's heart disease, and Waylon's respiratory issues as well.) Edna is 16 years old, so I don't take moments like this for granted. It was what I prayed for, and I am so very grateful.
—
Steve's message
This photo is what a happy, 16-year-old senior dog rescued from the shelter looks like; Edna, living her best life.
Go and find your Edna (or Ed) today at any shelter all across the country.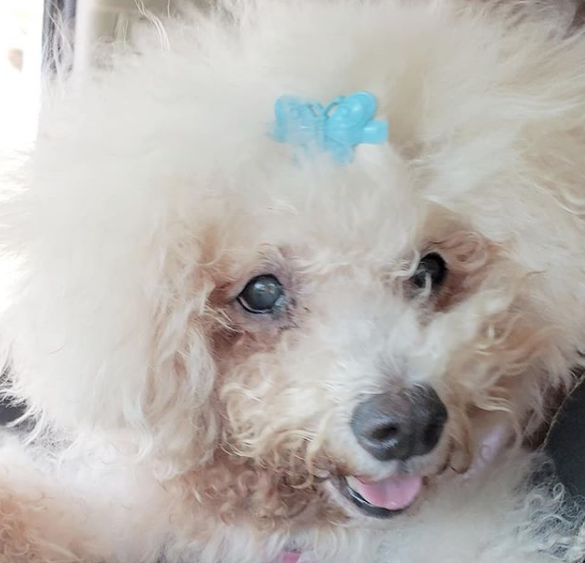 What If My Dog Has Kidney Disease?
Along with Sub Q fluids, Edna gets NHV supplements and a homemade diet that has been vet-formulated for her needs, age and breed.
Her two main supplements include Tripsy and Milk Thistle. Tripsy helps support her urinary function and helps slow down the progress of dog kidney disease as far as is naturally possible. Milk thistle helps detoxify her liver and keep it regenerated, important for pets fighting kidney disease. The two together form an excellent regimen for senior pets like Edna.
Vet-formulated diet plan by Dr. Amanda Nascimento to help Edna heal and gain health as she ages.
Another supplement that can be useful for Edna is NHV Turmeric. But we are glad that together with the homemade food, Sub Q fluids, and the Kidney Support Kit, Edna is continuing to do well. We stay in touch with her dad to watch for changes, and we are prepared to tweak her regimen as time progresses.
Nine months ago, Edna's rescue dad decided not to give up on her. Yesterday he shared this extraordinary story with his Instagram family. We are so happy to be a small part of it.
You can follow Edna's story and the story of all the unique frosted faces she shares her life with, on Instagram – @wolfgang2242
Kidney disease in dogs and cats in their senior years is prevalent and can quickly progress to become very serious. We thank Edna's dad for the trust he placed in us, and we are here to help all pets in need of natural support.
If your dog has kidney disease, reach out to an NHV Pet Expert about your pet today.
Edna is also a part of our Charity Calendar for 2019 which features Edna and 11 other pets who got a second chance in life, and all proceeds go to a rescue in NYC.
---
Published: January 19, 2019
You May Also Like