Vet Talks: Coronavirus In Cats

Vet Talks

3

min read
Feline Coronavirus (FCoV) is a common viral, but highly contagious intestinal (enteric) infection in cats. It can be asymptomatic, but may cause a few problems, like diarrhea in most infected cats. In some cats, however, the intestinal form of FCoV mutates and turns into feline infectious peritonitis (FIP), a disease that is generally fatal. Two forms of FIP may occur, effusive (wet) and non-effusive (dry).
It's important to note that the Feline Coronavirus (FCoV) is not the same Coronavirus identified first in Wuhan (2019 Novel Coronavirus, or 2019-nCoVdiscorvery). The Feline Coronavirus is not transmissible to people, and so far experts have not expressed concerns about transmission to or from cats with the 2019 Novel Coronavirus. It's safe to say that the Feline Coronavirus (FCoV) is not a threat to humans, it can only affect cats.
How does Feline Coronavirus spread?
Enteric FCoV is highly contagious between cats via fecal-oral transmission, which means that the virus is swallowed in contaminated materials. Most infected cats shed the virus. Eventually, many cats will stop shedding the virus. But, in some instances, persistent shedding may occur. Interestingly, lifelong shedders do not usually develop FIP, and the FIP virus is rarely shed in feces. Even though FCoV is inactivated by most disinfectants, it may remain in the environment. This is why it is important to keep an eye on your cat's feces and always make sure to clean it, while keeping the area disinfected at all times, to prevent the spread.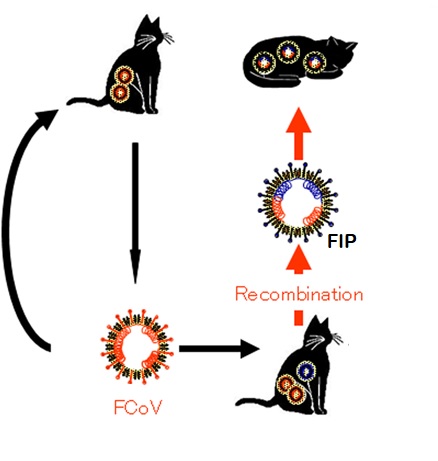 What are the symptoms of cats with Feline Coronavirus?
Cats with Feline Coronavirus may not present any sign or only have mild diarrhea. FIP tends to affect younger cats, less than 2 years of age or elderly ones.
Signs of the wet form of FIP include:
• Fever
• Anemia
• Yellow discoloration of the skin
• White-eyes
• Difficulty breathing
• Distended abdomen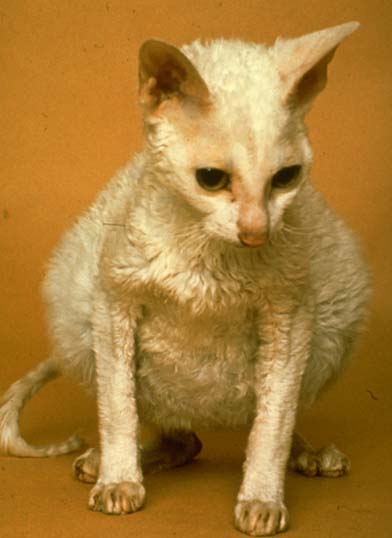 With the dry form of FIP, signs reflect the organ system that is affected.
How are cats with Feline Coronavirus diagnosed?
The diagnosis is based on clinical signs and laboratory tests, such as a test for FIP, complete blood cell count, blood chemistry, x-ray, ultrasound, fecal examinations, urinalysis. Tests for antibodies in the blood and histopathologic evaluation are also required for diagnosing.
Generally, specific treatment is not required, as FCoV often causes few signs or only mild, short diarrhea. No known treatment reduces the chance that FCopV-infected cats will develop FIP. Unfortunately, the treatment for FIP is often unsuccessful, and the disease may be fatal.
What to Do if a Cats is Diagnosed with Feline Coronavirus
It is very important to give supportive care with nutritional supplements. Some cats will benefit from suppressing the immune system with corticosteroids and other drugs. Cats with FIP should also be isolated from other cats, as they can transmit the disease. An intranasal vaccine is also available, but the effectiveness of the vaccine is not very well documented.
A cat with the intestinal form of FCoV has a good prognosis, however, with FIP the disease may be fatal.
What supplements can help?
Felimm can be very beneficial to prevent and support cats against Feline Coronavirus (FCov) and Feline Infectious Peritonitis (FIP). In addition, it helps fight infections, encourages detoxication of the lymphatic system, stimulates the appetite, improves energy levels and helps combat upper respiratory tract infections.
Plantaeris helps control diarrhea caused by Feline Coronavirus (FCov) and may also help eliminate this coronavirus. It helps maintain normal bowel function, soothes and relieves spasms of the digestive tract and reduces pain and discomfort.
ES-Clear helps reduce the Feline Coronavirus and by helping to detoxify vital organs that may be affected. It also helps to balance the immune system and improve the quality of life, vitality, and energy levels. ES Clear also promotes digestion and aids with appetite.
If your cat has recently been diagnosed with Coronavirus, please reach out to any of our NHV pet experts. We are here to help you with information and guidance.
---
Published: February 5, 2020
You May Also Like
2 replies