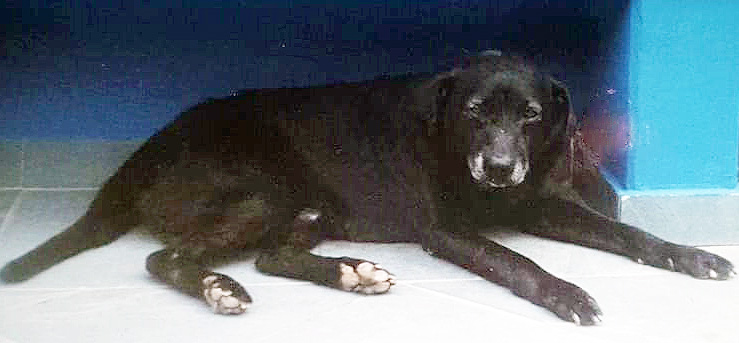 Caring for Senior Pets
During my veterinary practice I have had many experiences taking care of senior pets. More than half of my patients were elderly. But for this blog I would like to talk about my personal experience as a guardian of older animals. As I've reported in one of my previous blogs, I have had many, many pets. I always try to give them the best quality of life possible.
Bino, was one of my first dogs, before him I only remember Xuxu, who unfortunately did not live too long, but Bino lived 16 years! I received Bino, my mixed breed black puppy as a gift for my 4th birthday from my parents. I really wanted a puppy, and my parents gave me Bino.
I remember the first time I saw him like it was yesterday. He was inside of a shoe box, and when I said hello to him, he started to wag his tail like crazy. Even as I write this, it makes me want to cry. I really miss my best friend!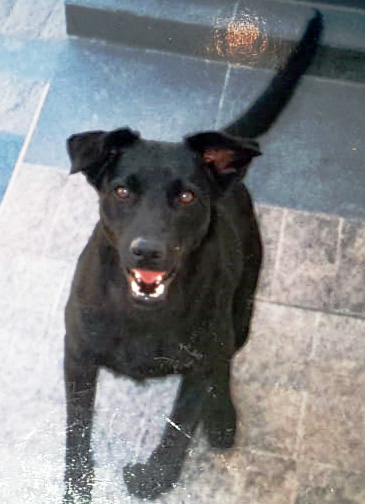 Bino, me and my family had several wonderful moments together. Bino always was a good boy. His food was always natural, homemade food and he adored it!!!  Bino liked to play with me by pulling on his blanket, and he loved to walk in the park that was behind my parent's house. He was a very active and friendly dog!
However, the years passed by, and Bino began to get older and older. He was not that agile boy like before. Bino began to sleep more, and did not play like he used to, but nevertheless he kept getting into mischief from time to time. When he was around 12 years old he decided to go to a very high part of the house. Unfortunately, I didn't see him, and he fell quite a distance. I was not yet a veterinarian, so we immediately rushed him to the vet's office. Bino had internal hemorrhage and he had fractured one of his vertebrae. Bino eventually recovered, but he had chronic pain in his spine. Because of this, he had days that he would rather lie down all day.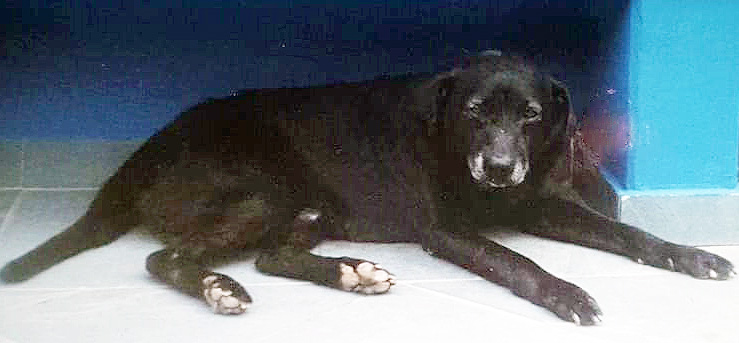 This was the time that we decided to change and supplement his diet. My mom used Omega 3 for her own pain, and she said that it helped her a lot.  We decided to start to give Bino Omega 3 as well and I can tell you, he started to be more active, which meant he likely felt less pain.  We also changed his bed to a more comfortable one and we reduced his physical activity.
At the age of seventeen I started university and I asked Bino to wait for me to finish vet school before saying goodbye to me.  I wanted him to be part of that special moment of my life. He was a part of many moments of my life and it would only be fair that he sees this moment too. However, when I was in my third year of vet college, we discovered that Bino had cancer. It was very sad to receive this bad news, and together with my family we decided that we would try everything to keep him alive and happy. But Bino could not hold on. After a few months of treatment, he was very weak, and my friend said goodbye. It hurt me a lot, even today I suffer to remember him, but I'm sure my little friend had a wonderful life, he had a lot of love and care.
I believe that the most important thing we can do for our best friends when they start to age is provide them with a good quality of life.
I was not a vet when I had Bino, however I tried to do my best for him.
---
Here are some tips that can help you with your elderly friend:
Physical activities
It is very important to encourage your pet to exercise, within their limits, to maintain the ideal weight, strengthen the muscles and prolong their physical capacity. Great exercise options are simple walking and swimming. It is important to respect your pet's boundaries, never push them too hard.
Essential Dental Care
The most common oral problems that arise in senior dogs are gingivitis and plaque buildup – known as tartar. If left untreated, this can cause more serious problems, such as tooth loss and serious bacterial infections. To avoid complications, brush your pet's teeth regularly and take them to your vet for regular dental check ups. NHV Mouth Drops can help to prevent dental infections
Diet
Older dogs usually have a few missing teeth or greater sensitivity to harder food. There are many foods in the market formulated for older dogs that replenish the necessary nutrients and have fewer calories than regular foods, preventing obesity and other diseases. I also suggest a balanced homemade food. NVH Multi Essentials can be very beneficial for providing nutrient enrichment and increasing energy levels.
Skin and Coat
It is important to closely monitor your pet's skin and coat. It is very common to find warts or nodules, which may pose no danger but can also cause serious health problems if they are in a delicate area such as the eyelids. If you notice any abnormality, seek advice from a veterinarian.
Other Care
Block the dog's access to high and dangerous places so that they are less likely to injure themselves.
Be sure to visit your veterinarian for regular checkups.
As pets age, they often drink more water, so always leave fresh, clean water in an easily accessible place. Urinary incontinence is a common disease of the elderly dog, so make sure that access to the place where he usually pees is always available, remember that before considering incontinence being caused by age, the veterinarian must evaluate your pet and rule out other possible causes for this change.
Senior dogs will be more sensitive to extreme temperatures, so avoid leaving them exposed to heat or cold.
Above all, you need to have a lot of patience and treat him with much affection, after all he remains your great friend, but unfortunately faces limitations imposed by advancing age. Do not demand behaviors that are no longer compatible with their physical condition and enjoy your best friend the fullest!
Some NHV supplements recommended for senior pets are:
NHV Mouth Drops – Helps to eliminate bad breath, fight infection and guards against tooth decay
NHV Old Timer – Helps to alleviate arthritis, joint and muscle pain.
NHV Turmeric – An excellent source of anti-oxidants to help combat aging.
NHV Pet Omega 3 – Support for the heart, joints and healthy skin and coat.
---
Dr. Amanda Nascimento, DVM, MVSc., PhD completed her undergraduate degree in veterinary medicine in 2010 and graduate studies in veterinary pathology (MVSc. 2012 and PhD 2016) at the School of Veterinary Medicine, University of São Paulo. She completed her post-doctoral training at the Western College of Veterinary Medicine – University of Saskatchewan in 2018. Dr. Nascimento will be hosting her own blog series and sharing her knowledge with our extended NHV family.
---
You May Also Like