Vet Talks: Feeding A Zoo – Behind The Scenes at a Zoo's Kitchen

Vet Talks

5

min read

While I was teaching at the University of São Paulo, my students and I were lucky to be able to see behind the scenes at the São Paulo Zoo (Portuguese: Parque Zoológico de São Paulo).
Most of the animals in the São Paulo Zoo were rescued from circuses and other unliveable conditions.
I am not a specialist in exotic animal nutrition, but the visit to the kitchen shed light on how important diet is for these animals and how many people (nutritionist, zootechnics, veterinarians, nurses etc.) are involved in putting together a balanced diet for them.
The São Paulo Zoo is the largest zoo in Brazil. Located in an area of 824.529 m² (1.68 square miles) of original Atlantic Forest, with 4 kilometers of trails, it houses more than 3,200 animals with 102 species of mammals, 216 species of birds, 95 species of reptiles, 15 species of amphibians and 16 species of invertebrates, in enclosures that replicate the natural habitats of these animals.
The farm area also houses animals which require extra space, such as those which are mating. The zoo has a nursery for young rejected by their mothers, electric incubators, and incubation room for eggs of birds and reptiles. The educational function of the zoo is emphasized. The library of more than four thousand volumes is open to the public. The zoo partners with other state, federal and foreign institutions in research that facilitates the preservation of endangered species and their habitats.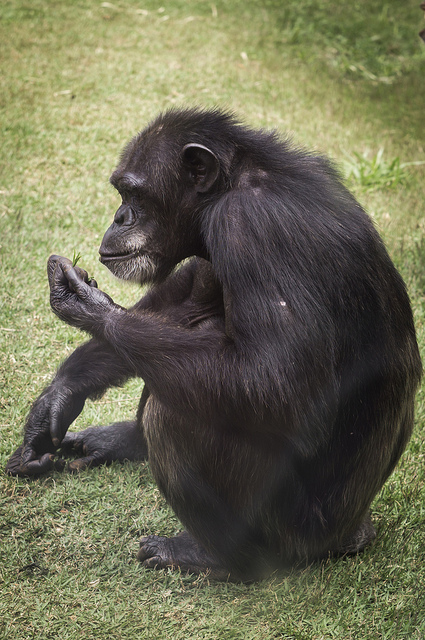 Meal Prep – Nutritious AND Delicious
Each day the zoo kitchen uses tonnes of food!  This is how it is managed:
The Zoo's farm of 572 hectares produces vegetables used in the manufacture of feed for various animals
Before entering the kitchen, you must walk through a small foot bath of iodine to decontaminate your shoes.
Work starts early each morning and must be very precise.
There are many stations where the food is prepared, separated according to the type of animal which is being fed.
Each station has its own measuring, cutting, and weighing equipment.
There is a large board with all instructions from the veterinarians including recipe, exact amount of each ingredient, and how to prepare the meals.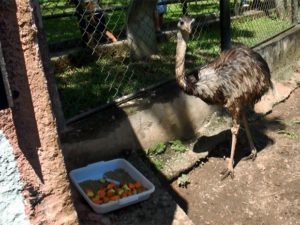 The meals are produced based on the diet of each animal.
Some extras are added to supplement the animal's diet. For example, a hippopotamus would hardly eat fruits and vegetables in the wild, because it feeds mostly on hay and grass. However, to provide more nutrients and enrichment, many fruits and vegetables are offered.
Vulnerable or sick animals and young animals receive even greater attention from the zoo staff.
Each animal needs a specific and balanced diet, obtained through research. These diets are created by veterinarians, biologists, zootechnics, and assembled in the kitchen.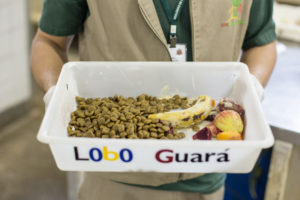 To further supplement the animals' feed, kibbles, which are full of essential nutrients are provided.
A taste of the wild
In the wild, animals may obtain essential nutrients in different ways than they do in captivity. One example is lions.
If you think that lions only eat meat, you are mistaken, but the way they eat plants in the wild is not at all conventional. Lions kill large herbivores in the savannas, and when they feast on the organs of these animals, including the stomach, they ingest the large amount of plant material in the stomach. This is how lions and other predators obtain the vital fiber that their system requires. This is the same reason that cats and dogs do not do well on a diet of only meat. They do require some grains and carbohydrates in order to have a balanced diet.
It is important to know the exact diets that your pet may need. Whether it be dogs, cats or other exotic animals, each pet has very specific nutritional needs. Cats are obligate carnivores, which means they must eat meat; however, they still require carbohydrates and fiber. It is important to follow the advice of your veterinarian when formulating any diet for your pet so that you know your pets' nutritional needs will be fully met.
If you prepare home-cooked meals for your pets, be sure they are balanced and contain all the correct nutrients. NHV Multi Essentials and NHV PetOmega 3 can help to make a home-cooked meal more balanced. We can also formulate a home-cooked meal plan specifically for your pet's needs!
https://nhvpethealth.com/whole-food-recipes-for-your-pet/
Visiting the kitchen at a zoo was an absolute joy for me. One can get very judgemental when visiting a zoo for leisure but when you understand all that goes on behind the scenes, it helps gain a better perspective. It feels great to know that these animals are in the best of hands, living a lifestyle that is inspired from their wild habitats and nature. I respect all the people who come together to run a zoo and I hope that as pet parents, everyone can take home some lessons about animal nutrition from a visit to a healthy and well-managed zoo.
---
Dr. Amanda Nascimento, DVM, MVSc., PhD completed her undergraduate degree in veterinary medicine in 2010 and graduate studies in veterinary pathology (MVSc. 2012 and PhD 2016) at the School of Veterinary Medicine, University of São Paulo. She completed her post-doctoral training at the Western College of Veterinary Medicine – University of Saskatchewan in 2018. Dr. Nascimento will be hosting her own blog series and sharing her knowledge with our extended NHV family.
---
Published: October 19, 2018
You May Also Like