Oregon Grape (Mahonia aquifolium) has a long history of medicinal use. The plant was used in Traditional Chinese Medicine for the treatment of a wide range of health disorders. It has also been used for centuries by the Indigenous people of the Pacific Northwest.
There are often misconceptions that Oregon Grape is toxic to pets based on the assumption that it is a grape. Contrary to what the name would suggest, Oregon Grape is in fact not a grape. Oregon Grape is part of the Berberidaceae family and is closely related to another medicinal herb, Barberry.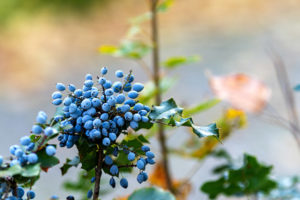 Mahonia aquifolium received its common name "Oregon Grape" for its abundance in the Pacific Northwest region of North America and the small, blue berries it produces. Oregon Grape grows as an evergreen shrub with leathery, spiky leaves that resemble the leaves of Common Holly (Ilex aquifolium), which has given it another common name, Holly-leaved Barberry. The shrub produces small yellow flowers for fertilization before they later ripen into berries.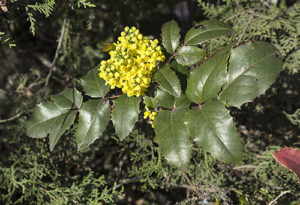 Oregon Grape root extract has shown antimicrobial, anti-inflammatory, antioxidant and hepatoprotective properties. It may have effects like – relieving internal heat, eliminating dampness, removing toxins, suppressing pain, promoting blood circulation, inhibiting cough and alleviating inflammation.
It has been used to treat tuberculosis, periodontitis, dysentery, pharyngolaryngitis, eczema, wounds, and liver issues. Oregon Grape can also be used to support, and attenuate liver injury. Through its anti-inflammatory and hepatoprotective effects that include maintenance of the liver's antioxidative defense systems, in addition to the scavenging of reactive oxygen species (ROS) and nitric oxide (NO); this herb may lead to an inhibition of lipid peroxidation.
NHV has 8 supplements containing Oregon Grape root extract that have been formulated by a holistic veterinarian and a master herbalist to help transfer the many benefits of this excellent herb to pets, safely. These formulations can be beneficial for very different health issues:
BK-Detox: It helps to balance a healthy histamine response to allergies and supports pets suffering from environmental allergies and hay fever.
Hairb-Ez: An herbal formulation that helps eliminate hairballs and helps to dissolve ingested hairballs.
Inulin-PK: An herbal formulation with broad-spectrum action. A natural dewormer that helps control bleeding caused and repair damage caused by parasites, and supports gastrointestinal tract healing. It also protects and regenerates the liver.
Mellit: An herbal formulation that helps control blood sugar levels and strengthens other organs from the serous imbalances that are triggered throughout the body due to diabetes. It also helps reduce inflammation of the pancreas.
Multi Essentials: A plant-based multi-vitamin herbal extract that helps fill nutritional voids, aids digestion, and enhances nutrient absorption. Multi-essentials also help stimulate the metabolism, reduces fatigue, increases energy and promotes healthy skin and coat.
Ouch Away Spray: An all-natural spray for dermatitis, skin infections, and skin irritations. Ouch Away spray helps hair growth and helps fight infections.
Stimmune: An herbal formula that helps to balance the immune system. It is beneficial for autoimmune conditions, dermatitis (skin allergies), recurrent infections and food allergies.
Tripsy: A soothing formula that controls infection, has a demulcent effect for urinary calculi and supports the health of the kidneys and bladder.
Thus, it would seem that Oregon Grape acts as a pharmacological agent that is able to prevent many different health issues and is safe for most pets. However, it is important to know the correct dose that should be administered to a pet. Excessive dosing can cause toxicosis and even prove fatal. All of NHV's supplements that contain Oregon Grape are formulated specifically to be a safe dosage for pets based on their weight. This herb is not safe for pregnant and lactating pets as it can stimulate uterine contractions and can be transmitted to breast milk.
---
Dr. Amanda Nascimento, DVM, MVSc., PhD completed her undergraduate degree in veterinary medicine in 2010 and graduate studies in veterinary pathology (MVSc. 2012 and PhD 2016) at the School of Veterinary Medicine, University of São Paulo. She completed her post-doctoral training at the Western College of Veterinary Medicine – University of Saskatchewan in 2018. Dr. Nascimento will be hosting her own blog series and sharing her knowledge with our extended NHV family.
Follow Dr. Amanda's vet talks blog series
https://nhvpethealth.com/getting-to-know-the-valerian-herb/
---
Published: April 17, 2020
You May Also Like