With Valentine's Day just around the corner, it's time to start thinking of what to give to the true love of your life – your furkiddos! 🐶😻 This vet-formulated recipe is a fun and delicious snack that you and your furry sweetheart can share. This Valentine's Day cookie recipe for pets will have them falling head over paws for you.
This is a treat you don't have to feel guilty about because it is loaded with nutrients! Bananas contain a fair amount of fiber, as well as several antioxidants and support digestion because they are rich in sugar, but it is important to give a moderate amount. Oats are very nutrient-dense as they contain many important vitamins, minerals, and antioxidants. Oats are high in fiber, protein, manganese, phosphorus, magnesium, iron, and vitamin B1 (thiamin). Not only does ginger add a nice flavor to this recipe but it also has properties that support circulation, digestion, and can help reduce inflammation.
DIY Banana & Oatmeal Valentine's Day Cookies Recipe
Ingredients
1 banana
1 egg
1/4 cup of coconut oil
2 tbsp honey
1 tsp ginger
3 cups rolled oats
1/2 tbsp cinnamon
Your favorite NHV supplement (NHV Hearty-Heart is a great choice)
Steps
1. Preheat oven to 350°F (175°C)
2. Peel the banana and cut into smaller pieces. In a mixing bowl, mash the banana until smooth.
3. Add the egg, coconut oil, honey, and ginger to the bowl. Whisk together until smooth and be sure to break up large clumps of the coconut oil.
4. In a large bowl, mix together rolled oats and cinnamon until cinnamon is evenly distributed.
5. Slowly pour wet ingredients into the bowl with the dry ingredients while mixing together. Mix together thoroughly and break up any remaining coconut oil clumps.
6. Sprinkle flour on the counter. Roll out the dough until it is approximately 1/3″ thick.
7. Use a heart-shaped cookie cutter to cut out cookies.
8. Transfer cut out cookies onto a baking sheet lined with parchment paper approximately 1 inch apart.
9. Bake for 10-15 minutes or until golden brown
10. Take them out of the oven and let them cool for at least 5 to 10 minutes.
11. Drizzle on your favorite NHV supplement.
12. Serve and watch your furkiddo enjoy a treat made with love.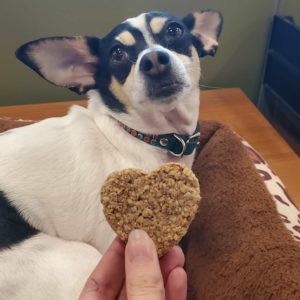 *Although healthy, this recipe is meant to be used as an occasional snack and does not replace regular meals.
We'd love to hear how your pet liked the treat! Please let us know your pet's reactions or ways you made this recipe your own. Tag us #NHVpets in pictures on social media of you and your furkiddo making it together or enjoying.
https://nhvpethealth.com/recipe-sweet-potato-mash-for-pets/
https://nhvpethealth.com/recipe-tuna-and-blueberry-scone-treats-for-dogs-and-cats/
---
Published: February 10, 2020
You May Also Like