February 23rd is International Dog Biscuit Day! To celebrate, our in-house veterinary team formulated this easy and delicious peanut butter cookie recipe for pets. We call it the Beggar-Maker because it is sure to make your furkiddo beg for more!
Peanut butter is a snack that many pets (especially dogs) love. Peanut butter is high in protein and is a good source of vitamins and proteins. Peanut butter contains healthy fats and is a source of magnesium, zinc, potassium, niacin, vitamin B-6, and vitamin E. Since peanut butter has all these benefits, it makes a great snack in moderation but there are important things to look out for when choosing a peanut butter. Many kinds of peanut butter contain artificial sweeteners like Xylitol which is toxic to pets. When buying a peanut butter choose one that does not contain sugar, any Xylitol and has a low amount of sodium. Making your own peanut butter at home is a way of ensuring that your peanut butter does not contain artificial sweeteners and is low in sodium.
Coconut water not only adds a little extra flavor to the recipe compared to regular water but it has some added health benefits too. Coconut water is another good source of vitamins and nutrients as it contains vitamin C, calcium, and natural electrolytes such as potassium, sodium, and manganese. Although it contains many nutrients, coconut water should only be given in moderation due to the high amount of sodium it contains.
DIY Peanut Butter Beggar-Maker Cookie Recipe
Ingredients
1 cup organic peanut butter (no xylitol, low sodium, no sugar)
1 cup coconut water
1 tbsp baking powder
2 cups whole-wheat flour, plus extra for sprinkling on your countertop
Your favorite NHV supplement like Milk Thistle
Steps
1. Preheat the oven to 375°F (190°C)
2. In a large mixing bowl, combine the peanut butter and coconut water. Slowly adding the coconut water to the peanut butter will help to mix it more evenly.
3. In another medium-sized mixing bowl, combine the baking powder and whole-wheat flour.
4. Slowly add the dry ingredients to the wet ingredients. Combine all of the ingredients until thoroughly mixed.
5. On a clean countertop or a piece of parchment paper, sprinkle a small amount flour on the surface and remove the dough from the bowl. Knead dough until smooth and even.
5. Roll out the dough until approximately 1/3″ thick evenly.
6. Using a cookie cutter (we chose a dog bone for a classic dog biscuit look), cut out the cookies and place them on a baking tray lined with parchment paper.
7. Bake for 15 to 20 minutes or until golden brown.
8. Take them out of the oven and let them cool for at least 5 to 10 minutes.
9. When you're ready to serve, drizzle on your favorite NHV supplement on top of the cookies.
10. Serve and watch your furkiddo enjoy a special cookie made with love.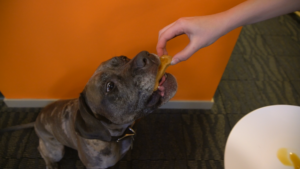 *Although healthy, this recipe is meant to be used as an occasional snack and does not replace regular meals.
We'd love to hear how your pet liked the treat! Please let us know your pet's reactions or ways you made this recipe your own. Tag us #NHVpets in pictures on social media of you and your furkiddo making it together or enjoying.
https://nhvpethealth.com/banana-and-oat-valentines-day-cookie-recipe-for-pets/
---
Published: February 22, 2020
You May Also Like