Hemangiosarcoma is an aggressive form of cancer mostly found in dogs besides some other animals. We've had several pet parents come to us asking for holistic help with it. Lately, a pet mom came to us with answers.
She had been using NHV Natures Immuno coupled with Chemo and other supplements. Her girl Mackenzie was diagnosed with this terrible disease in March. She took the decision of going ahead with chemo and added Natures Immuno to support the chemo and undo any damage. She did her research and added other useful herbs to her diet. And look at the transformation beautiful Mackenzie has made since then! It's been about 9 months, she's gained some much needed weight and energy. Is behaving like a pupper again, at 11 years old. And we are the happiest to be a part of this transformation.
February 2019 
Our hearts are with Mackenzie and her family as she crosses the rainbow bridge to rest in peace.
Thank you for everything you've done to help Mackenzie. Mackenzie crosses the 🌈 bridge this morning.

🌈 Mackenzie 🌈 My puppy with the perfect ears and most loving heart is gone. I knew the time was approaching… I just didn't think it would be now. I made arrangements for her to pass peacefully at home, on her own bed, surrounded by family this morning after 9am.  Now… no more pain, no suffering. I love her so much. Run free. 2-18-2019 @pupmomma_megs
Why is Natures Immuno helpful for pets going through chemotherapy?
Agaricus and Reishi mushrooms are being used extensively in conjunction with chemotherapy in humans by oncologists in Japan and China. Reishi specifically is effective against sarcoma and tumor necrosis.
Turkey Tail mushrooms are one of the most widely studied mushrooms for their anti-tumor properties.
Natures Immuno, a medical blend of 5 mushrooms, helps enhance the effect of chemotherpay and at the same time it doesn't let the body's immunity die. It boosts the NK (natural killing) cells in the bodies of dogs and cats fighting chronics diseases or autoimmune disorders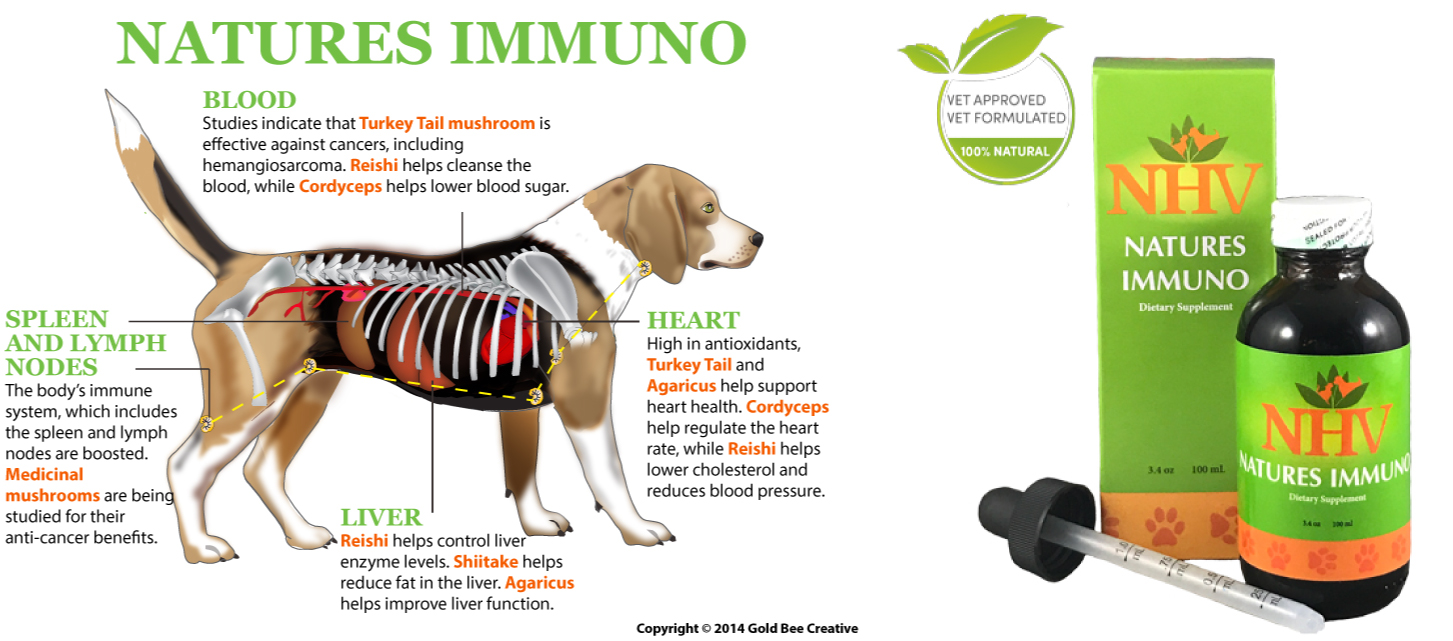 You can read more about the benefits of this powerful blend here. Do you think your pet need this immunity boost too? Ask a NHV Pet Expert for advice today!
---
Published: December 14, 2017
You May Also Like