We dare you not to fall in love with Roo and his piercing blue eyes. This sweet fur baby has skeletal deformities from head to toe and internal issues believed to be caused by a congenital condition called Mucopolysaccharidosis, also known as MPS. Roo was brought to his rescuers covered in fleas and ticks and he is now living with the best foster family –  @triumphant_teagan, he's being pampered with love and care.
Thanks to the help of #NHVpets community, we were able to give back and donate supplements through the #NHVnaturalselfie campaign. Due to Roo's condition, it's very hard work for him to move positions, so we decided to donate 3 different supplements to get him started and help support his mobility issue. Old Timer to reduce pain and support his joints, Turmeric to support his overall health, joints and heart and Yucca to reduce inflammation, pain and support his digestion.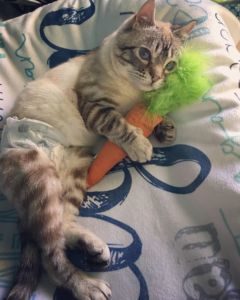 Update May 2019
Roo is doing amazing! We started the yucca and he gobbled it right up in his food. I can't tell you how happy I was about that! For a little guy he's VERY picky about stuff being added to his food. Roo is doing so well on his supplements! Thank you so much. I started adding in the last of the supplements, Turmeric, a few days ago. So far so good!
Update June 2019: Besides MPS, Roo has also an enlarged heart, so on his second batch of supplements we decided to donate a bottle of Hearty Heart to support his heart function too.
NHV Gives back: Roo the kitty with MPS
Along with the supplements Roo's foster mom is also using the Assisi Loop Lounge to help reduce inflammation and improve his movements. The goal is to make him as comfortable as possible for as long as possible. His foster mom is providing love and quality life to this sweet little baby. Roo is a little fighter, a heart charmer and a purring ball of love who knows nothing but to be happy and we just love to follow and be part of his inspiring journey.
Update July 2019: Baby Roo is getting stronger everyday and his movements are improving too.
Being an MPS fighter with skeletal deformities is not stopping him to steal hearts though.
There's no way for me to prepare myself for loosing him… I have moments of great sadness, but I am confident that he knows he's so very loved and cherished . In the end that's really all any of us could ever hope for. I really do believe your supplements and his Assisi lounge are truly helping him. He stretches out his body now and he's so playful … he wasn't when he first got here.
When bringing a rescue fur baby home, look out for these special little ones. We have lots of supplements and remedies that can help them live a happy comfy life. These special fur kiddos have nothing but love to give back to you, they will fill your hearts with gratitude and joy in a second. Special thanks to @noah_mylittleman for bringing baby Roo to our attention.
Update! Just before you head to bed this beautiful fall day (11/06/2019), here's some happy news… Baby Roo's heart is not enlarged anymore. ❤️🙏🏻😌 If all goes well this special kitty boy might be able to get surgery for his condition (MPS). You already sent so many selfies!!! Keep sending your love to this darling cat.
What supplements is Roo taking?
https://nhvpethealth.com/nhv-donates-its-natural-supplements-worth-5000-to-pets-in-need/
---
You May Also Like