Spring has finally sprung for those of us in the Northern Hemisphere! To celebrate the arrival of Spring and to give us something fun to do while social distancing due to COVID-19, we are having a virtual Easter Egg Hunt 2021!
March 29-31, 2021 we will be hiding 3 eggs that look like the ones below throughout our website, each day.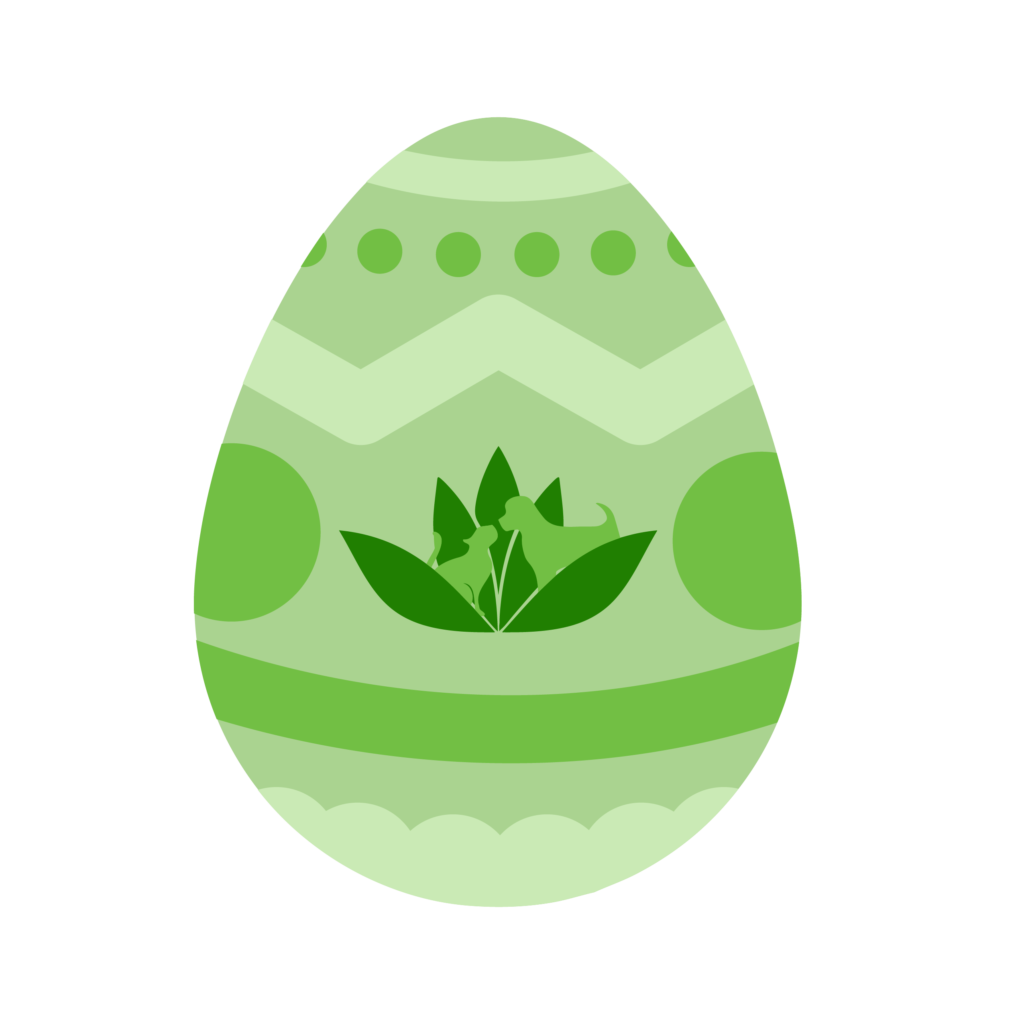 At 10:30am PST, we will be releasing the 3 clues for that day's eggs on Instagram, Facebook, and Twitter. Participants will have 24 hours once the clues have been released to find the eggs.
Once you have found the eggs, participants must send us a photo of where they found the egg, identifying the egg's location. This can be a screenshot with a circle drawn around it, or a photo of your finger (or paw) pointing to the egg's location on your screen. These photos can be sent to us as a direct message on our social media or via email to social@nhvpetproducts.com.
Anyone who posts their photo publicly will be disqualified as it gives away the egg's location!
Participants who find eggs and send us their photos before 10:30am on Thursday, April 1st, will receive a coupon code!
All participants will be entered in a draw to win a free supplement. We will be selecting three winners, one for each day!
If you have any questions, feel free to ask our pet experts but we won't be giving you any hints!
Day 1 Green Egg Clues – Monday, March 29th
Clue 1
I'm a terrier mix rescue and one of my favorite parts about my forever home is the nice, big yard! I can run around and play for hours! With summer coming, my pawrents are concerned about me getting bit by mosquitos and ticks so they spray me with this.
Clue 2
I am a cat mom and I love taking my furbabies for walks. The other day, we were walking and one of my kitties got snagged by a thorny bush. When we got home, I opened my first aid kit and used this NHV spray to clean the scrape.
Clue 3
Last summer, my pupper's paws were getting really dry and cracked from walking on hot pavement and sand. I decided this year I would try to prevent that and found a balm from NHV that I can put on my dog's paws to help them stay smooth and healthy.
Day 2 Blue Egg Clues – Tuesday, March 30th
Clue 1
I'm a senior kitty and have been yowling at night and have seemed extra hungry these days even though I am losing weight. The vet told my humans that I have hyperthyroidism and recommended this NHV supplement that has helped other kitty patients with hyperthyroidism.
Clue 2
My name is Fido and I started losing hair, have gained a bit of a belly, and have been peeing a lot. The vet thinks it's Cushing's disease. You will find your second blue egg with a supplement my mom wants to have me try.
Clue 3
I am a kitty that has been living with diabetes for a few years now. My dad does whatever he can to help me be my healthiest self. He recently heard about this NHV supplement from a friend on Instagram.
Day 3 Orange Egg Clues – Wednesday, March 31st
Clue 1
I am a 2-year-old lab who loves to run and play outside. Lately, my mama noticed that I seem stiff while chasing my favorite ball. I went to the vet and they told my mama that I have hip dysplasia. My mama ordered this supplement to help me be more mobile.
Clue 2
I am a rescue cat that loves to jump around. You could say that I am really into purrkour. 😉 I have had some falls lately and the vet said I'm fine but my joints and muscles seem a bit inflamed. This is the supplement I'm taking to help with my inflammation.
Clue 3
I am a rabbit and my parents noticed that I was having a hard time hopping in and out of my litter tray and wasn't adventuring around as much as usual. You will find your last orange egg with a supplement that the NHV team recommended for my arthritis.
---
Entries Are Now Closed!
Thank you to everyone that participated in the Egg Hunt! We hope you had fun and have a very hoppy Easter!
---
Published: March 26, 2021
You May Also Like