In March 2020, Sheena and Jason the adventurers from @mavistheairstream, discovered a malignant tumor on Riley's hip. Their entire world crashed down around them at the thought of losing their blind, 13-year-old miniature poodle. They knew in their hearts that Riley was a strong survivor and he wouldn't let cancer take him too soon.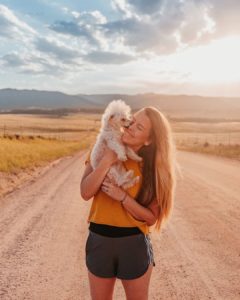 I want everyone to see what an absolute warrior this little soul is. And for you guys to know that this time with him on this cross-country trip means more to us now than ever. Because I spent several weeks earlier this year picturing this trip without him, worried at all that could go wrong between then and now. But he's here. This little warrior is here.
Riley's mama and papa jumped into action and rushed him to the best vet in Atlanta and passed their pup off to masked nurses in a parking lot since COVID-19 protocols were in place.
I tell ya, handing your old, blind dog over in the vet parking lot in this COVID world with no face to face contact with the surgeon was a gut-wrenching blow of extra trauma.
They were so afraid, but their little man pulled through surgery and the vet was able to remove the tumor in its entirety and he healed in record time. Sheena and Jason were thrilled that Riley didn't have to lose any of his muscles or legs, considering the tumor was on his hip. His pathology report even showed that the cancer didn't spread and that he was healthy and strong. Riley pulled through and proved stronger than cancer! Just like his Sheena and Jason knew he would.
Riley's Recovery
Even though his tumor was removed, it has been essential for Sheena and Jason to help Riley through his recovery. His scar had left a sizable mark on his small body where a large chunk of his tissue had been removed. Riley is healing, and his mama and papa have a plan to support him through his recovery as they knew it was essential to keep Riley his happy, quirky self.
Their plan included researching and reading up on natural remedies and holistic healing in pets. The book Nature of Animal Healing by Martin Goldstein, was very influential for them and lead them to find us at NHV. They changed his diet to low sugar and low carb and had him drink filtered water, considering they were living out of an airstream. Their recovery plan also included supplements, and they started Riley on NHV ES-Clear, Natures Immuno, Yucca, and Old Timer to support his healing and recovery.
ES-Clear helps manage the symptoms of cancer helps keep the body strong while fighting cancer. The herbs help support the immune system, energy levels, healthy appetite, and have detoxifying and antioxidant properties and help support vitality and quality of life.
Natures Immuno is another cancer supporting supplement that helps with digestion, fatigue, and heart health to keep the body functioning while it is recovering. Natures Immuno can be helpful for supporting the immune system, especially in pets that have a compromised immune system.
Yucca is a powerful herb that can help reduce inflammation, pain, and aid with digestion.
Old Timer is helpful for supporting the joints as well as reducing any inflammation or symptoms of arthritis.
Sheena and Jason did an amazing job of taking care of their little man and did everything in their power to support him through his recovery and cancer. We are so amazed and inspired by this family and their breathtaking adventures. Their endless love, support, and passion shine through all that they do, and they truly give their blind senior pooch the very best life out in the great outdoors! We are so glad we could be part of their care team, and we can't wait to see where their travels take them next!
https://nhvpethealth.com/kelly-fights-cancer-with-integrative-care/
---
Published: August 20, 2020
You May Also Like