Study Finds NHV Natural Pet Products Supplement Beneficial In Managing Urinary Stones in Dogs and Cats
Clinical Trials & Research
3

min read

Our promise to help your pets motivates us to be the best. We are committed to our products and the difference they can make. Which is why we take the steps towards researching our herbal dietary supplements and their benefits. NHV Tripsy was studied by The University of Georgia College of Veterinary Medicine. We are overjoyed to share the progress with our pet parents.
---
A recent study of healthy young cats and healthy adult dogs found Tripsy, a veterinarian-formulated, 100% herbal supplement, may be beneficial in lowering the risk of struvite crystals, a phosphate mineral found in urinary stones in young cats as well as in reducing the risk of calcium oxalate crystals which form urinary stones in adult dogs. Tripsy for cats and for dogs is manufactured by NHV Natural Pet Products, makers of veterinarian-approved plant-based natural supplements from organically grown and wild crafted herbs. The study was conducted under the supervision of Joe Bartges, DVM, PhD, DACVIM, DACVN, Professor of Medicine and Nutrition, Department of Small Animal Medicine and Surgery Veterinary Medical Center at The University of Georgia College of Veterinary Medicine.
According to Dr. Joe Bartges, "When given to young cats and adult dogs, in a relatively short period of time of two weeks, the collected urine samples indicated that Tripsy significantly decreased the risk of developing urinary stones in both groups. Although further evaluation is ongoing, the initial study results indicate that Tripsy, may be beneficial in managing struvite crystals and stones in young cats and in managing calcium oxalate crystals and stones in adult dogs."
"At NHV we believe in improving the lives and wellbeing of animals through integrative medicine, which means using holistic care like nutrition and herbal supplements in conjunction with conventional medication," adds Patra de Silva, President of NHV Natural Pet Products. "We are grateful to Dr. Bartges and The University of Georgia for studying the effects of our herbal supplement Tripsy and its effectiveness in managing urinary ailments commonly found in cats and dogs.
The cause of urinary stones is unknown; however, they are often formed by naturally occurring minerals, the most common being calcium oxalate and struvite. These minerals form crystals that accumulate and grow into stones. All cats are prone to urinary stones, though some breeds are more susceptible than others, including Persian, Balinese, Burmese, Siamese, and short- and long-haired domesticated cats. Dogs, like people, can also develop a variety of bladder and kidney stones. Bladder stones (uroliths or cystic calculi), are rock-like formations of minerals that form in the urinary bladder, and are more common than kidney stones in dogs.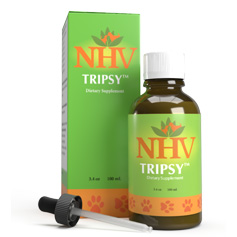 NHV Tripsy contains a powerful blend of natural herbs. This proprietary formulation was developed by a holistic vet and a master herbalist to help pets suffering from stones, kidney disease, urinary tract infections and more.
NHV NATURAL PET PRODUCTS provides veterinarian-formulated full-spectrum supplements derived from natural botanicals to support the health and well-being of pets including dogs, cats and small animals. In addition to the safe and effective manufacture of a full-line of Veterinarian-approved pet supplements that contain organically grown or ethically wild crafted herbs and botanicals to aid with over 100 pet health conditions, NHV also offers vet consultations to provide professional support and guidance for disease prevention and treatment. For more tips, visit www.nhvnaturalpetproucts.com.
###
Media Contacts: Cathy Callegari – 212-579-1370 or cathy@callprinc.com Liz Ammirato – 845-621-2005 or liz@callprinc.com
---
Over the years, our herbal supplements have earned the trust of many holistic veterinarians and loving pet parents. Here are some pets who have given NHV Tripsy their paw of approval. We invite pet parents to ask us more about it and give us the chance to help their cats and dogs with our soothing and effective herbal formula, NHV Tripsy.
Yours in wellness,
Team NHV Natural Pet Products
https://nhvpethealth.com/urinary-tract-infection-and-kidney-stones-in-cats-and-the-natural-solution-for-them/
https://nhvpethealth.com/patches-my-little-miracle-a-cat-moms-tale-for-her-cat-with-kidney-disease-and-arthritis/
https://nhvpethealth.com/herbal-remedies-and-antibiotics-for-uti-in-cats-read-zeppys-tale/
https://nhvpethealth.com/12-year-old-maltipoos-holistic-route-to-a-healthy-liver/
---
Published: February 2, 2018
You May Also Like