Heal-Care Helps GusGus' Nose Match His Smooth Frenchie Personality

Inspiring Pet Tails

2

min read
We receive so many happy success stories here at NHV, but our NHV team is also a group of pet parents and we use our products too! We have all seen first-hand how NHV natural products can help, not just for major ailments like cancer or heart disease, but for small things too.
My buddy GusGus is a French Bulldog. Aside from the plethora of health issues Frenchies can suffer from, they also tend to get very dry, scaly noses. Since GusGus is an Instagram star, I wanted him looking his absolute best in his pictures (not to mention, the dry scabbiness looked pretty uncomfortable) I applied some Heal Care Ointment to Gus' nose once per day, and after only TWO days, his nose already looked so much better! He's a pretty stubborn little guy, he doesn't like being 'messed' with much, so the fact that I only had to apply this once daily was great. He also didn't seem bothered by it at all!

I'm so thrilled with how his nose looks now. He doesn't mind if I post his close-ups to Instagram, and I'm sure it feels a whole lot better too!

~Johanna, RVT @ NHV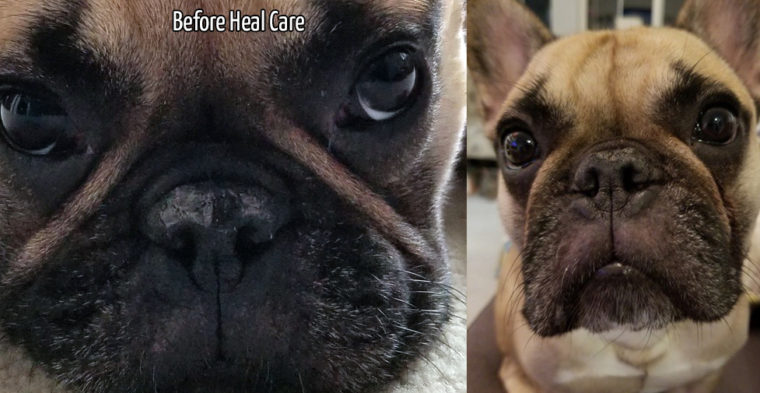 Heal Care ointment contains Arnica and St. John's Wort along with olive oil and natural beeswax for texture. Arnica naturally relieves pain and inflammation and clears fungal and bacterial infections. St. John's Wort helps with wound healing and stimulates tissue repair. It is thought to reduce nerve pain when applied topically. The olive oil in Heal Care helps to naturally soften the skin to help heal dry skin and cracking.
Heal Care Ointment can come handy in a lot of day-to-day situations:
Massage it on sore and painful limbs
Use it to heal cracked paw pads
Rub it gently on any inflamed skin
Use it on the paws, post walkies. (helps protect paw pads from the dangers of  exposure to over-heated gravel or snow salt)
What's best is that, because it is completely herbal, it wouldn't hurt your pet if he or she accidentally or "rebelliously" licks it.
Whether your pet is on Instagram or not, you always want them feeling great and looking THE BEST. It's great to know that there are natural ways to achieve that. Follow @NHVNaturalPet on Instagram to stay in touch with us our community of holistic pooches and kitties. If you have a pet health question or need any holistic advice, please get in touch with us here. Along with our in-house vet and our team of Pet Experts, I would love to help you out! 🙂
---
Published: March 14, 2018
You May Also Like