Thank you so much Coertje for sharing your story and your pictures of your beautiful fur family.
When Coertje's rescue kitty, Hunter, was suffering from sinus issues, she turned to NHV for help:
Our rescue kitty Hunter had a lot of sinus issues, snuffly, sneezing, and Resp-aid has helped him so much!!! We are very pleased with how his breathing is much easier and he hardly ever sneezes now.
Here's the sweet little guy looking loved. Hunter, is their tripod. He was found outside Coertje's husband's work with a severely injured front leg and he was very thin.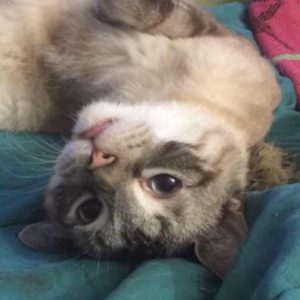 Sinus Issues in Cats
If your kitty has a sinus issue they may exhibit symptoms like sneezing, loss of appetite, nasal discharge, or decreased air flow. There are many causes of sinus issues in cats, including dental disease, viral or bacterial infections, abnormal tissue growth, or nasal polyps.
NHV Resp-Aid is a natural vet-formulated herbal remedy that contains a blend of herbs that help to support the respiratory system. It contains herbs with natural antibacterial and antiviral properties, and also helps to relieve pain and spasms, and helps to reduce inflammation.
---
Dental Issues in Cats
Coertje's fur family has 4 rescue kitties. Two of the four rescues suffer from dental issues. Dental issues are extremely common in cats of all ages. In fact, by the time most cats are 3 years old they will have some type of early periodontal disease. Left untreated dental disease can lead to other painful disorders, like resporptive lesions, stomatitis, and can even effect the kidneys.
NHV Mouth Drops for cats contains natural herbs that help control bacterial infections, and help reduce pain and inflammation.
Here's what Coertje had to say about NHV Mouth Drops –
Two of our four cats have bad teeth and gums and terrible breath. We have been adding mouth drops to their wet food, and their breath is much better!! I am sure their teeth and gums are getting better too, and will continue to use it for them.
The whole fur family:
And just in case you can't get enough of these cuties, here's a flip gram their mom made and shared with us!
---
You May Also Like