Frosted furry faces are the most special ones. They probably don't follow you everywhere like they used to, but sharing life with senior pets has its own beauty.
Senior dog problems include weakened immune system, joint pain and arthritis which can have dramatic impacts on their daily life. It can be hard to witness changes and know their favorite activities now cause them pain and difficulty.
Sweet little Rosie, a beautiful 13 year old beagle mix was beginning to suffer from senior dog problems too. Rosie unfortunately had "lost her spark" according to her dog mom, Lindsay. Rosie had severe back ache and she began taking NHV's all natural multi vitamin. After a few months Rosie's back pain began to improve and she was back to her lovable self, and even stopped needing her pain meds.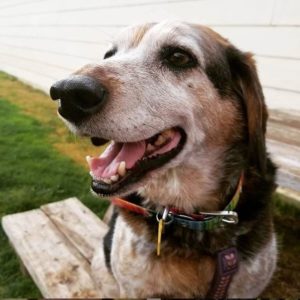 This update of Rosie' condition was posted on @rose_bud86's Instagram the day of her 13th birthday!  Her mum explained Rosie and her have been through countless adventures. Lindsey thought in the last two years she might have to say goodbye to sweet Rosie, twice, but luckily she is one tough pup.
Arthritis is fairly common in dogs. Early symptoms include, limping, relying more on one leg than the other,  changes in motivation of activities your pup once did with ease, such as running to the door, or climbing on the couch or stairs. Back ache is more common in certain long-ish breeds.
Rosie takes Old timer and Turmeric regularly. Keeping in mind Rosie's severe back ache, we have recommended replacing Turmeric with Yucca every other refill. Yucca works like a natural pain relief for dogs and cats. It is also a strong anti-inflammatory herb and hence helps significantly in reducing muscle and joint pain. Additional benefits of yucca include better appetite and healthier digestion.
While Rosie was still coping with her back pain, her weakened immune system seemed to have attracted awful allergies.
The vets tried antibiotics and commonly used anti allergy medications for dogs but nothing was bringing relief. Revere sneezing, draining and throat clearing…Rosie was starting to be sick and weak again. She was diagnosed with possible allergic rhinitis but they needed more tests to determine exactly. Lindsey was having second thoughts about more procedures considering her dog's old age. She also knew that the car trips were aggravating her back ache.
NHV Pet experts recommended Felimm and Resp Aid for Rosie's conditions. Resp Aid helps reduce inflammation in the mucous membrane and Felimm helps the body fight infections – viral, bacterial or fungal.
Within 2 weeks of adding the two to Rosie's regimen, there was huge improvement. Almost like a 'before-after' transformation says Lindsey.
"I wish I would have taken a quick video of her when her allergies were at their worst so I could show how much she has improved. I am so amazed with your products. Have improved my dog's quality of life 10 fold. I tell all the pet parents I know about your products."
---
At NHV, we understand how important it is for pet parents to see their senior dogs and cats comfortable. We try to help them do what ever they can naturally, to improve their quality of life. Sometimes it is a smooth ride and other times it is some back and forth, and a longer journey of recovery. But as your pet's integrative vet care team, we are determined to make the happy days outnumber the sad ones. Just reach out to us if you want our help with senior dog problems!
https://nhvpethealth.com/time-spent-with-older-pets-how-can-we-make-the-most-of-it/
https://nhvpethealth.com/relieving-inflammation-and-arthritis-in-senior-pets-naturally/
---
You May Also Like