Our Pet Experts at NHV always like to check in to see our every member of our #NHVpets family are doing. We know that life has its ups and downs, and being a pet parent means there's always something unexpected that happens in the lives of our fur kids.
In July 2019, we checked in with Farrah to see how her sweet kitty Keekee was doing. We had been helping KeeKee with her stage 1 kidney failure. We were so saddened to hear that Keekee had developed a large wound on her belly from excessive licking and chewing. Farrah had already taken Keekee to the vet to have the wound checked out,  but they were unable to find a solution. The vet thought that surgery or medications would help the wound but they would be too risky and pose problems with her other existing health conditions such as heart disease, diabetes, and kidney issues.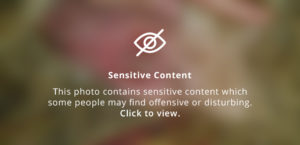 She has environmental allergies. Yet… she only bites her feet and belly. I thought it was from the fluids from her heart making her swell and she gets itchy.

She has been licking her belly since she was 1 and a half 2ish yrs old. When we started finding out she had problems. I would get it to go away with vet stuff or other stuff I found but as soon as I would get it to go away and I stopped BOOM here she does it all over again. Well she has it pretty bad now. I have tried cones, onesies and so on you name it. She get through them and starts licking it back open.
Farrah asked us if All Clear Ointment would help the wound heal. She had a hard time finding anything that would work to help it heal that wouldn't cause even more of an allergic reaction or interfere with the other health conditions.
At first, we were concerned that Keekee's excessive chewing was a sign that she had discomfort deeper inside her body. Since pets can't tell us that they have pain inside their body, it is common for them to constantly be chewing or scratching on their body above what hurts. This was also a concern of the vet's, which is why they did a biopsy to make sure that there was nothing underneath that was causing Keekee's reaction. The vet concluded that the wound was a chronic focally extensive ulcerative mixed cellular dermatitis.
Having a proper diagnosis from a vet is so important for our pet experts to be able to recommend the best products or supplements to helps. And now that we had an idea as to what was wrong, we made some recommendations.
To help disinfect and heal the wound. It is an all-natural spray that helps fight against infections, promotes healing, helps soothe irritation, and promotes hair growth.
The skin is the body's first line of defense against infection. Since the skin is no longer there to protect the wound area, it is important to support the immune system. Natures Immuno is a blend of mushrooms known for their extensive health benefits including, immune system support and helping to fight against infections.
It is common for cats to lick or chew when they are stressed. Even though the licking and chewing were initially caused by allergies, the discomfort and stress of having the wound and tests could have lead to her to continue to chew. Matricalm is a herbal blend that helps reduce anxiety, agitation, aggressive behavior, and excitability.
We contacted Farrah in September to see how Keekee was doing. Farrah told us that Keekee had greatly improved.
They had figured out that the allergic reaction was happening because Keekee was stealing food from her fursibling. Farrah has done a great job caring for Keekee and finding ways to help her cope with her many health issues and heal her belly wound. Farrah diligently kept the wound clean, used Ouch Away Spray, and modified a children's onsie to prevent Keekee from continuing to lick the wound.
I am so glad to have NHV on my side because they helped Keekee so much. I recommend it to everyone. Plus the staff is amazing and help so much.
Update: March 12th, 2020
She is doing absolutely wonderful! The hearty heart is doing great keeping her heart working with her meds. The tripsy is doing fantastic keeping all the urinary tract in check with her kidney problem. And the itchies are gone and her booboo is about the size of a dime instead of a 50 cent piece.
Our pet experts are always happy to help and give advice. We are so glad to see that Keekee has found some relief and is healing well!
https://nhvpethealth.com/vet-tech-rounds-food-allergies-in-dogs-and-cats/
https://nhvpethealth.com/a-timid-jeffrey-the-cat-was-overgrooming/
---
Published: November 25, 2019
You May Also Like