A while ago we were contacted by a worried dog mom from New York. Elizabeth's dog Juno, a 9 year old sheltie is fighting Cushing's and Elizabeth was pretty excited to get her started on our holistic regime but she got worried when the transformation wasn't as huge as some other pet parents had experienced. We immediately sprung into action. We learnt that Juno was a very loved dog, and the entire family was effected by her health and well being. We wanted to do all we could.
Juno weighed about 28 lbs and Elizabeth had been giving her 0.75 ml, twice a day of NHV Supraglan and NHV Milk Thistle. As per our therapeutic dose, Juno needed 1ml, twice a day. And we always recommend to jump the weight slab if your pet is in a very critical situation.
Pet's Weight Dosage
0 – 15 lb 0.5 mL
16 – 30 lb 1.0 mL
31 – 45 lb 1.5 mL
46 – 60 lb 2.0 mL
61 – 75 lb 2.5 mL
Over 75 lb 3.0 mL
The dosage should be increased gradually, but in Juno's case with the Cushing's having progressed further, we knew 1.5 ml, twice a day is what was needed. We left word with Juno's mom to raise the dose. A few weeks later, we got a happy update and Juno's mom shared her beautiful story with us.
Juno, our 9 year old Sheltie, was diagnosed with Cushings Disease in August, 2017.  It was so sudden, we knew immediately something was wrong because she was struggling to be the guard dog she had always been and began searching for water and food everywhere.  She even abandoned us when we were camping during a terrible storm!  That's when we knew something was terribly wrong.
By the time she was diagnosed a few weeks later, she was very ill.  We took her to the vet, and after spending $1000 or so on tests, we turned to NHV when it was evident that cost of future vet visits, tests, and medicine would out-price us.   I contacted customer service and spoke with Jade, an employee of NHV.  We decided to start supplements Supraglan and Milk Thistle in September.  She has been doing very well on this medicine.  It makes her more comfortable and it, combined with healthy food, changed her from a dog nearing the end of her life, to the regular girl we knew pre Cushings.  She enjoys the supplements morning and night delivered on a half piece of bread.

One night I forgot to give her the supplements, and the next day she was very uncomfortable.  It was proof to me that these supplements are what's keeping her well.  I'm glad that I had NHV to turn to, or I'm really not sure what her future would hold. Also, a big thanks to Jade for keeping in touch each month to inquire about our loyal little girl.
This story left us all teary-eyed. We're all keeping our paws crossed for this special pup. She looks like she is really special and her family needs her to fight. We are hopeful with the right doses and diet, Juno will be able to enjoy many healthy and happy years ahead. We are happy to take things one beautiful day at a time.
Look at these lovely pictures of Juno and her family. The first one is from when Juno was a pup and her tiny human, Elizabeth's son is playing with her. And then there is a recent picture where the tiny human is all grown up and Juno is close to his side. Oh what did we ever do to deserve the love and loyalty of these creatures!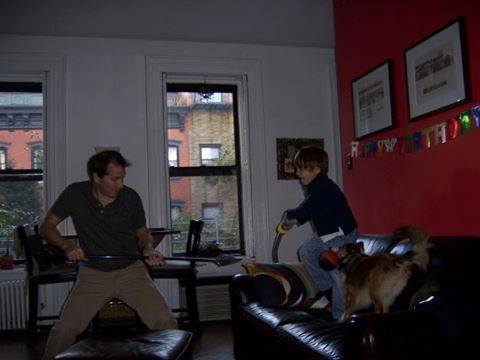 We are happy to be there to help Juno fight this terrible disease. We recently learnt she also has diabetes and bad arthritis. We are working closely with Elizabeth to help little Juno cope with all of this. We urge pet parents to keep us updated with their pet's health once he or she starts our holistic regime. We'll ensure the dosage is changed according to your pet's progress and we also make sure that any additions or subtractions are made as well. Talk to an NHV Pet Expert today!
Product reviews are solely the experience and opinion of the reviewer. Actual results may vary.
---
Published: November 26, 2017
You May Also Like