Spring has finally sprung for those of us in the Northern Hemisphere! To celebrate the arrival of Spring and to give us something fun to do while in social distancing due to COVID-19, we are having a virtual Easter Egg Hunt 2020!
April 6-8th, 2020 we will be hiding 3 eggs that look like the ones below throughout our website, each day.
At 9:30am PST (Vancouver, BC – Canada), we will be releasing the 3 clues for that day's eggs on Instagram, Facebook, and Twitter. Participants will have 24 hours once the clues have been released to find the eggs. 
Once you have found the eggs, participants must send us a photo of where they found the egg, identifying the egg's location. This can be a screenshot with a circle drawn around it, or a photo of your finger (or paw) pointing to the egg's location on your screen. These photos can be sent to us as a direct message on our social media or via email to social@nhvpetproducts.com.
Anyone who posts their photo publicly will be disqualified as it gives away the egg's location!
Participants who find all eggs, each day and send us their photos before 9:30am on Thursday, April 9th, will receive a coupon code! 
The first participant to find all 3 of that day's eggs will win a free product!
If you have any questions, feel free to ask our pet experts but we won't be giving you any hints!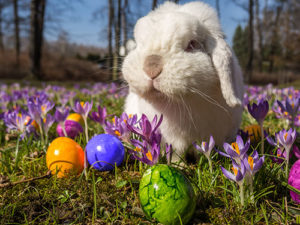 Day 1 Clues – April 6th
Clue 1
I am a kitty who likes to play outside in my backyard. Lately, I have been sneezing and scratching more than usual. You will find your first green egg with a supplement that will help me feel better with my allergies.
Clue 2
I am a proud #dogmom but I have noticed that my furbaby has dandruff and his skin looks red and dry. I saw a post on Instagram from NHV of a dog that went through something similar, and in that dog's case, it was allergies. You will find your second green egg with a spray that the @nhvnaturalpet recommended when I messaged them.
Clue 3
I am a cat with a great cat meowmy! She has decided to try feeding me higher quality food. Ever since then, I have been rubbing my face a lot, chewing my paws, and have been scratching my ears more than usual. You will find your third green egg with a supplement that the pet experts recommended to my mama when she gave them a call.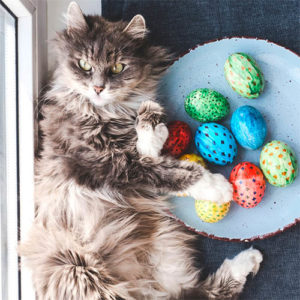 Day 2 Clues – April 7th
Clue 1
I am a sheep that has been having a bit of diarrhea lately. My humans think I have a condition called scours and that one of NHV's supplements will help. You will find your first blue egg with this supplement.
Clue 2
I am a pet parent who has a healthy kitty and I want to help him stay that way. I have been giving him NHV supplements since he was adopted. I have decided to try a different kind of food for his meals but now I think he is having a tougher time going poop 💩You will find your second blue egg where I am looking for something from NHV to help him do his business with more ease.
Clue 3
I am a 5-year-old cocker spaniel. I often play out in the yard whenever I can and love to roll in the grass! My dad noticed that I have been having diarrhea and vomiting more than normal, so he took me to the vet. The vet found that I had worms! You will find your third blue egg with the supplement my dad is starting to add to my food. 

Day 3 Clues – April 8th
Clue 1
I am a yellow-crowned amazon that was hatched in the USA. My mom worries that I am not getting all the nutrients I need since I am not living in my natural habitat. My mom called NHV and they suggested a supplement to help me get all my vitamins and fill dietary gaps. You will find your first orange egg with this supplement.
Clue 2
I am a pet parent who has recently had a dog pass away after living a long and happy life. Since then, I have welcomed a new rescue dog into my life and I am determined to do everything I can to help her stay healthy. I messaged with the NHV pet experts and they suggested few supplements; Multi Essentials, PetOmega 3, Turmeric, and Yucca. I decided I'm going to try them all. You will find your second orange egg with the bundle that has theses products and will help me save money.
Clue 3
I am a pet parent who has a guinea pig and some ducks. My guinea pig is starting to show her age so I want something that will help her with her arthritis. My ducks are fine but I want to give them something that will help them stay there. I would like it if I could just give them all the same thing to keep it less complicated. You will find your third orange egg with the supplement that I am going to try.
Happy hunting!
Our Egg Hunt is now closed!
Thank you so much to all of our pawticipants! We had so much fun and we hope you did too!
The winners of the free products are:
Day 1 – @life_of_goose_the_handicat
Day 2 – @walterwhiteandgus
Day 3 – @the_bunny_and_sorin_family
We wish everyone a safe and hoppy Easter! 🐰❤️🌷
---
You May Also Like