4 clever ways of pet proofing your Christmas

Pet Care Tips

4

min read
It's that time of the year again. While you're singing silent nights and jingle bells, here's what your cat is singing.
Yes, our little furry children are eager to wreck Christmas decorations, make cooking a menace and bring down the Christmas tree. How are you planning to save your Christmas and keep them happy too. Here are 4 clever tips that will help pet proof your Christmas preps.
Decorate something more interesting than the tree.
We got this really cool idea from one of our cat moms who uses NHV natural supplements for her cats. She decorated a ladder and placed it next to the tree. Voila! The little fur monsters were not interested in the tree anymore. They loved playing on the ladder a lot. In fact, she was able to make a little video for us. It's Toothless Tigger's Christmas Commercial for NHV Natural Pet Products.
Get a crate. For the tree.
When your pets can't be trusted around the house, you put them in a crate for a time out. Crate training is an important part of growing up for most dogs; and sometimes, cats too need to be confined to a room. Well, if you have pets who can't be trusted with a tree and you don't want to to restrict them to a tiny crate when everyone is celebrating Christmas, here's what you do. You place the tree in the crate and let it think about it's life choices. Some time off in a safe little sanctuary where your pets won't chew on it, jump on it  or bring it down. Pet proofing, aced. (Pictures: Bored Panda)
Make the decorations inaccessible. Everyone wins.
If it's a cat you're trying to save Christmas from, then just trim your tree from the bottom up.  You have a tree and it's decorated. It might look like a lamp but that's okay. Your cats are happy, intrigued and your tree is decorated.This tree works for dogs too. But if it's just a dog that you're trying to save your Christmas tree from, then you can do something as simple as not decorating the bottom half. Your dog won't fiddle with it if it has nothing shiny or chewy hanging from it. (Pictures: Bored Panda)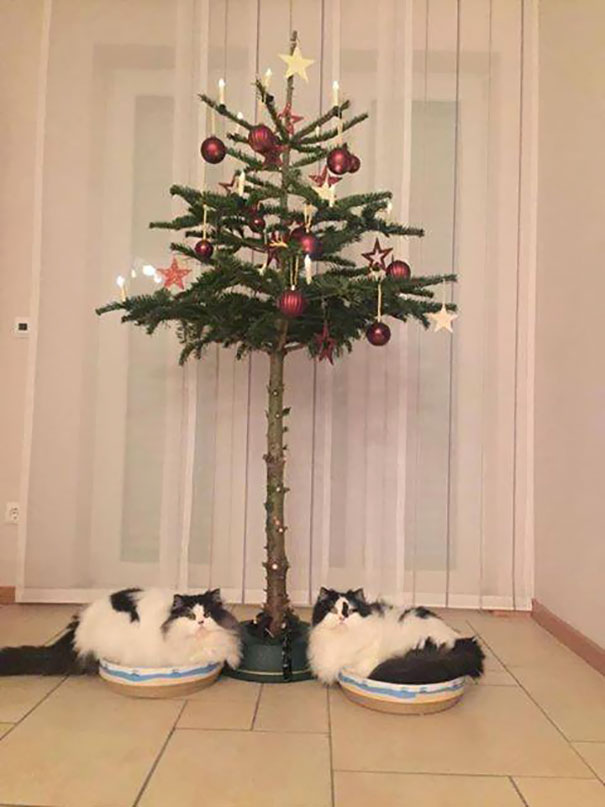 To keep your dog from peeing on it, try using a natural pee repellant. Here are DIY  instructions to make a repellant for dogs and cats at home.
Take help from nature.
If you pick this route then there are some pet proofing options you can choose from. You could simply decorate a Christmas tree outside. A real Christmas tree for everyone in the neighbourhood to enjoy. Or you could place your Christmas tree out in the patio and obviously, keep your pets away from it. (Pictures: Bored Panda) We also heard about a cat mom who would make her cat wear a Christmas sweater every time he would try to climb the tree. Soon the cat understood climbing the tree is a bad idea.
Or you could get a natural calming supplement like ours to help calm your cat or your dog and help them cope with the holiday anxiety too. You are going to be in and out a lot more. There are going to be guests and there's going to be some cheerful Christmas chaos. Our herbal blends Matricalm and Lesstress will help with all of this. Add to it some minor training and you might just have a Christmas like normal people: A merry and a pet proof one. 🙂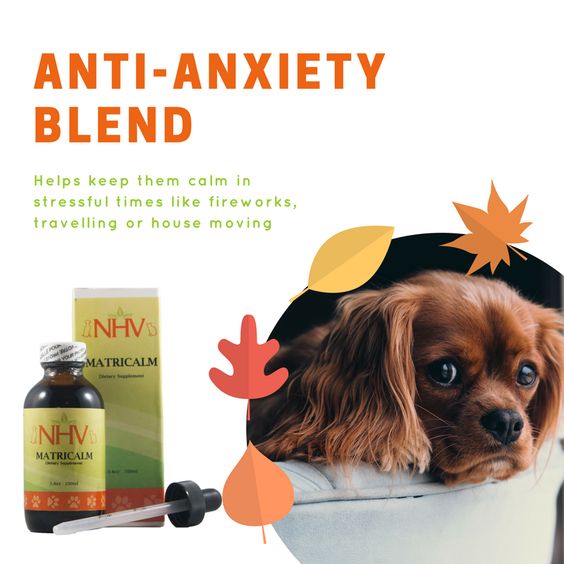 There you go. Some clever trips for pet proofing your Christmas. While you do all this, please ensure you keep your pets safe and healthy too. Don't feed them table scraps or your holiday cookings. Baked turkey slices or some crunchy blueberries are good as snacks. Dispose the turkey bones very carefully. Your pets shouldn't be able to get into them. They are more damaging than any Christmas decorations. Happy Pawlidays, everyone. Have a beautiful Christmas with your loved ones, human and furry.
---
Published: December 22, 2017
You May Also Like