Meet Hunter, a wonderful husky mix, who was saved as a pup from a fated death because of his mutt heritage in the Canadian North. Escaping a short-life as a rejected sled dog, Hunter was brought down to Vancouver by some amazing rescuers, where he has spent his life of eleven years with family and friends who love him; and where he passes the days with longs walks and snuggles in a warm bed.
A couple of months ago, Hunter's family was noticing some worrisome changes: his nose was becoming extremely dry, what looked like a tumor was developing in his nostrils, his walks became shorter, and he had difficulty standing up after periods of lying down or sitting. Hunter was taken to the vet for a checkup and blood work. He was diagnosed with an autoimmune disease.
Autoimnmune disease, which affects dogs far more than cats, is when a pet's body forms antibodies attacking its own tissues. The exact cause of autoimmune disease is unknown, although it is believed that autoimmune disease in dogs may be a result of infections or chronic exposure to toxins.
There are seven main types of autoimmune diseases that affect dogs. These are:
Autoimmune Hemolytic Anemia: This is when a pet's body forms antibodies against its own red blood cells causing anemia.
Hypothyroidism: When the body's antibodies attack the thyroid gland.
Immune-Mediated Thrombocytopenia (ITP): When the pet's antibodies attack the body's own platelets, causing reduced blood-clotting.
Keratoconjunctivities Sicca or "dry eye": When antibodies attack the tear gland, causing eye disease.
Pemphigus: When antibodies attack the skin.
Rheumatoid Arthritis: When the antibodies attack the joint tissues, causing lameness and arthritis.
Systemic Lupus Erythematosus (SLE): When the pet's antibodies attack a number of tissues including blood cells, skin and kidneys.
Hunter was diagnosed with Rhematoid Arthritis and Lupus. The vet suggested beginning steroids. Hunter's family wanted to try a natural route first.
Hunter is on the following herbal supplements to help support his body.
NHV Old Timer – For pain, inflammation, arthritis, and to help the immune system. Old Timer contains herbs like guggul, which aids pain and arthritic conditions; and cayenne, which helps circulation to the body especially to the extremities.
NHV Yucca – Yucca contains steroidal saponins, which assist the body in using and producing its own corticosteroids and corticosteroid-related hormones. Yucca is also very nutritive, containing a variety of vitamins (vitamin C, vitamin B, iron, magnesium, phosphorus, protein, just to name a few).
NHV Stimmune – To help provide immune support. Stimmune contains herbs like Astragalus which has been well accepted in cases of auto-immune disease, as well as herbs like Asian Ginseng which help increase energy levels.
NHV ES Clear – to help with the tumor in his nose and provide cancer support as well as support for the kidneys. ES Clear contains herbs like burdock which have been helpful in rheumatoid disorders and lymphoma, as well as herbs like Sheep's sorrel which helps with inflammation in the nasal passages and Chinese Rhubarb which helps cleanse the blood.
NHV Turmeric –  In autoimmune disease, excess oxidation can occur and the body's normal antioxidant abilities suffer. Supplying pets who have autoimmune disease with antioxidant herbs like Turmeric can really help.
NHV PetOmega 3 – An anti-inflammatory agent, omega-3 fatty acids can help to regulate the immune response in pets with autoimmune disease.
All Clear Ointment to help with the dry flaky skin around his nose. All Clear Ointment contains antimicrobial herbs like goldenseal root to help soothe the skin.
This is what Hunter's family had to say:
It's been 2 months and we've seen such a big difference in Hunter. He used to struggle to get up, and now is getting up like he's a young pup! His dry nose is much improved and the tumor inside his nose is showing improvement. We're so please and will continue this natural route to his healing! Thank you!"

– Magdalene, Hunter's mom
If you suspect your pet has autoimmune disease please consult your veterinarian, or holistic veterinarian. For any help with natural supplements to support the body, please feel free to contact your NHV Pet Experts anytime!
August 2019
Hunter fought a brave fight for many years beyond his diagnosis. Not a day went by when he missed his NHV doses. He would spend the mornings watching the birds in his yard, he would enjoy his walkies and he even nursed his grandpa back to health after he had a stroke.
But today, this big teddy bear gave in to his multiple issues. To see a big joyful dog unable to walk and do everything he enjoyed broke his human's heart. His body gave up and his spirit was ready. He gained his wings today and his family will never be the same.
Rest in peace, Hunter. Until we meet again.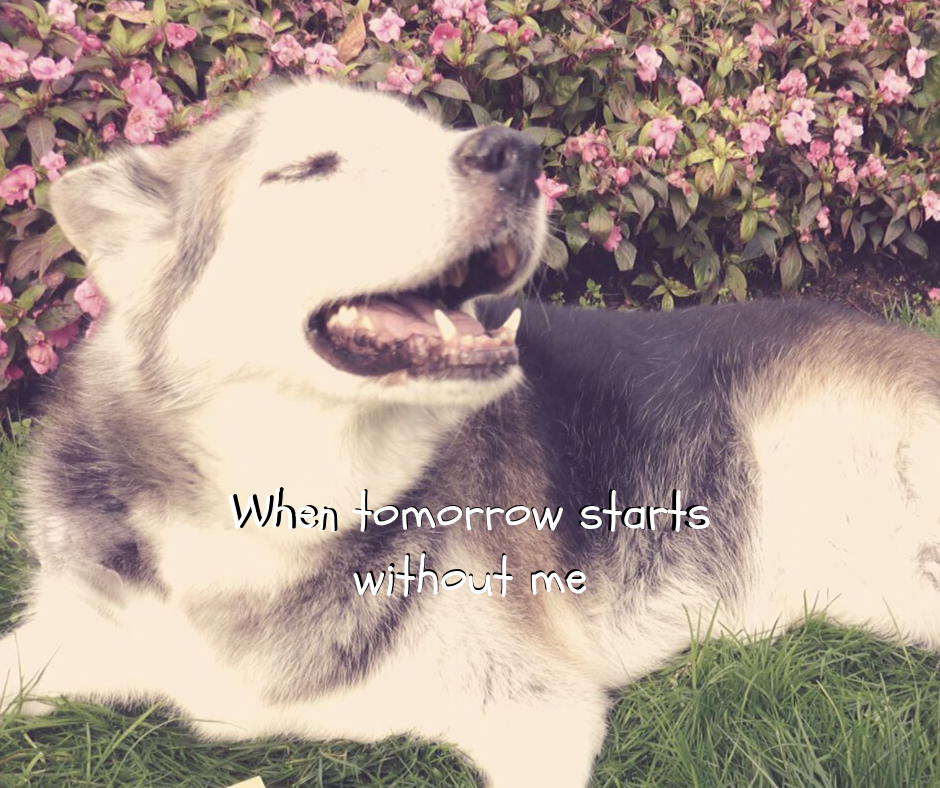 *Product reviews are solely the experience and opinion of the reviewer. Actual results may vary.
---
You May Also Like